Oxygen Sensor Training Guide
Symptoms of a Bad Oxygen Sensor
It is first important to understand that an OBDII code in itself is not indicative of a failed oxygen sensor. Sensors simply report information. An oxygen sensor that reports a lean fuel mixture, for example, will certainly set off a code. This sensor is doing its job and does not need to be replaced.
If a failing or dead sensor is the issue, there are several OBDII codes in particular that will be set off (more on this in the following section). In turn, the vehicle itself will often display physical symptoms due to a sensor that is not functioning properly.
A decrease in fuel efficiency can be a telltale sign that an O2 sensor is not performing as it should. This can happen because of a fuel mixture that is either too lean or too rich.
Such a swing in A/F ratio is a sign that an upstream or control sensor is faulty. The downstream or diagnostic sensors only monitor the exhaust leaving the catalytic converter and will not cause such an issue.
Other symptoms of a bad oxygen sensor include a rough idle, a misfire, and/ or hesitation when trying to accelerate. Keep in mind, however, that these issues can also have other causes that have no relation to the health of a vehicle's oxygen sensors. Therefore, none of them alone is cause enough to replace one. A combination of an OBII warning, engine performance issues, and a physical inspection of the sensor is often required to make a proper diagnosis.
Common O2 Failure Causes
Oxygen sensor failure can often be traced to one of three common factors: Age and high mileage, an internal contaminant (poisoning) or an electrical issue.
One or two wire unheated oxygen sensors should be inspected or replaced every 30,000 miles. These sensors must rely solely on hot exhaust gas to reach their operating temperature, and are designed to let a large amount of exhaust make contact with the active ceramic element.
Heated oxygen sensors are less prone to contamination, as their internal heat source allows them to be placed much farther downstream than unheated sensors. Heated sensors should be inspected or replaced every 60,000 miles. While heated oxygen sensors can be placed in safer locations than unheated models, they are made up of multiple circuits that can in turn allow for electrical issues. If the heater circuit in a sensor goes bad, the sensor will not function properly. Heater circuit issues are in fact a common source of OBDII codes.
In order to do their jobs, all oxygen sensors must be exposed to a constant stream of harmful exhaust gasses, extreme heat and high velocity particulates. Because of this, their efficiency will inevitably decrease over time.
Sometimes, oxygen sensors can become contaminated by elements from within the engine. Exhaust from an overly rich fuel mixture can foul an O2 sensor, as will leaded fuel. Antifreeze or silicone residue resulting from faulty gaskets can have the same effect. The sensors pictured below have been poisoned and need to be replaced.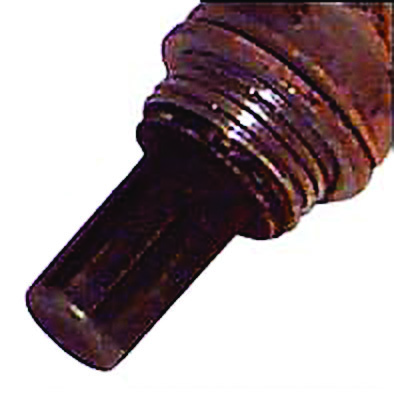 Carbon buildup from a rich fuel mixture is a frequent occurrence and causes many sensors to go bad. There are many possible causes of this, including a clogged air filter or a leaking or defective fuel injector.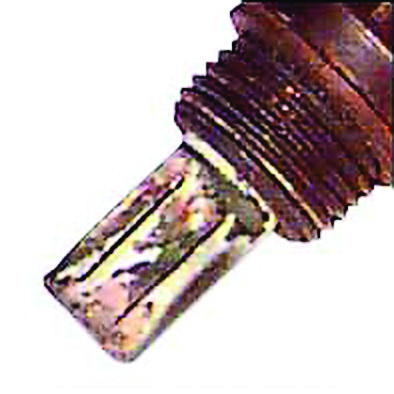 Antifreeze can be very harmful to a sensor if it is allowed into the combustion chamber. This can happen in the case of a cracked or warped cylinder head, a leaking cylinder head gasket, or a leaking intake manifold gasket.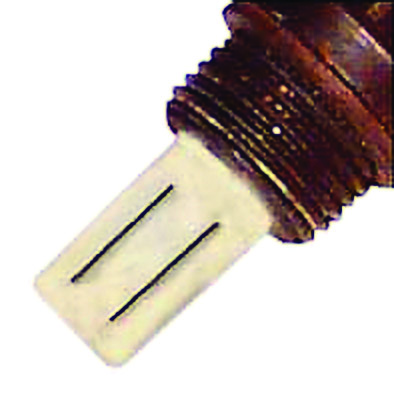 Silicone poisoning, as pictured to the left, can leave the head of an oxygen sensor appearing white in color. The most common cause of this condition is the use of an improper silicone gasket sealant on the engine.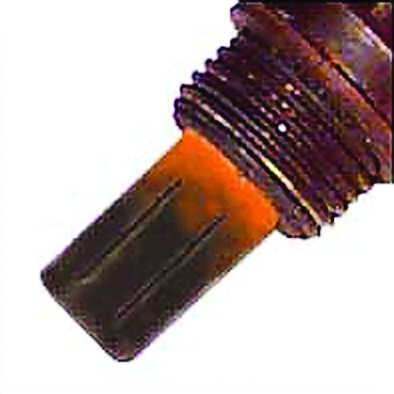 Using improper (leaded) gasoline will harm an oxygen sensor. Although this is a rare occurrence, it is good to know what the effects of leaded gasoline look like on a sensor.
Oxygen Sensor Frequently Asked Questions
The oxygen sensor will not come out.
Soak the sensor thread area with a powerful penetrating lubricant. Starting and revving the engine should further aid in loosening the sensor by heating up the bung. If you are using an open end wrench, try an O2 socket. If this fails, try a long ratchet or breaker bar in conjunction with your socket to generate more torque. If you are still unsuccessful, heat the bung with a torch until cherry red and remove the sensor. After the sensor is removed, be sure to use a thread cleaner to clean up the bung threads. In some cases the threads will need to be repaired. This can be done with a thread repair kit (Walker Part # 88-832). Do not use an impact wrench to remove an O2 sensor, as you will most likely strip the threads in the bung. For any issues requiring the replacement or addition of a bung, Walker carries a full line of oxygen sensor bungs and plugs.
How many oxygen sensors does a particular vehicle have?
Our Find Your Part lookup at www.walkerproducts.com can give you specific sensor data for most applications. Modern cars can have up to 6 or more O2 sensors.
Are the rear oxygen sensors really necessary?
The role of the downstream sensors is to monitor the output and health of the catalytic converter. Removing them will take away this function, and produce a CEL (check engine light) or MIL (malfunction indicator light) on the vehicle.
I am getting a CEL/MIL and a . . . code. Do I need to replace the oxygen sensor?
Not necessarily. The oxygen sensor simply reports the data that it gathers. For example, if you are getting a lean mixture code, you may have a vacuum leak or a faulty fuel injector. Replacing the oxygen sensor will not fix this problem. You will just get the same code again.
Do I need to replace all of the sensors at once?
It is best to replace O2 sensors in pairs. For example, if you replace the downstream left sensor, you should also replace the downstream right.
However, on most vehicles produced since 1996, replacing one sensor (especially the front engine monitoring sensor) will cause the ECU to set a code for the other sensors. This is because the new sensor switching activity is much faster than that of the older aged sensors. It is probable that on most vehicles, the code will be set within 30-60 days AFTER the first sensor replacement.
What is the life expectancy of an oxygen sensor?
Heated oxygen sensors should be checked or replaced every 60,000 miles, while unheated oxygen sensors should be checked or replaced every 30,000 miles.
How can I test an oxygen sensor?
You can test the O2 sensor on a vehicle by first identifying the signal wire on the sensor. Secondly, by using a voltmeter with the scale set to 1 volt, the voltage will fluctuate between 200 and 800 millivolts or .2 to .8 volts on your meter. If the sensor's reading is stalled in position, or switches abnormally high or low, your sensor has failed. If your results are inconclusive, it's best to have your vehicle checked at a professional shop.
Note: This test will not work on Air Fuel or Wide Band sensors.
A second method is to connect some of the various testers available on the market directly to the oxygen sensor. This method is not as accurate, but can detect some of the sensor failures.
What is a California emissions sensor? How do I know if I need one?
A California emissions O2 sensor is meant for vehicles that are designed to meet California emission regulations. Such vehicles should have a sticker under the hood or on the driver's door jamb that identify them.
What are the symptoms of a failing oxygen sensor?
Typically, a failing sensor will produce poor gas mileage, hesitation or stalling, and a CEL/MIL. However, the oxygen sensor is not the only cause of these symptoms.