ENVIRONMENTAL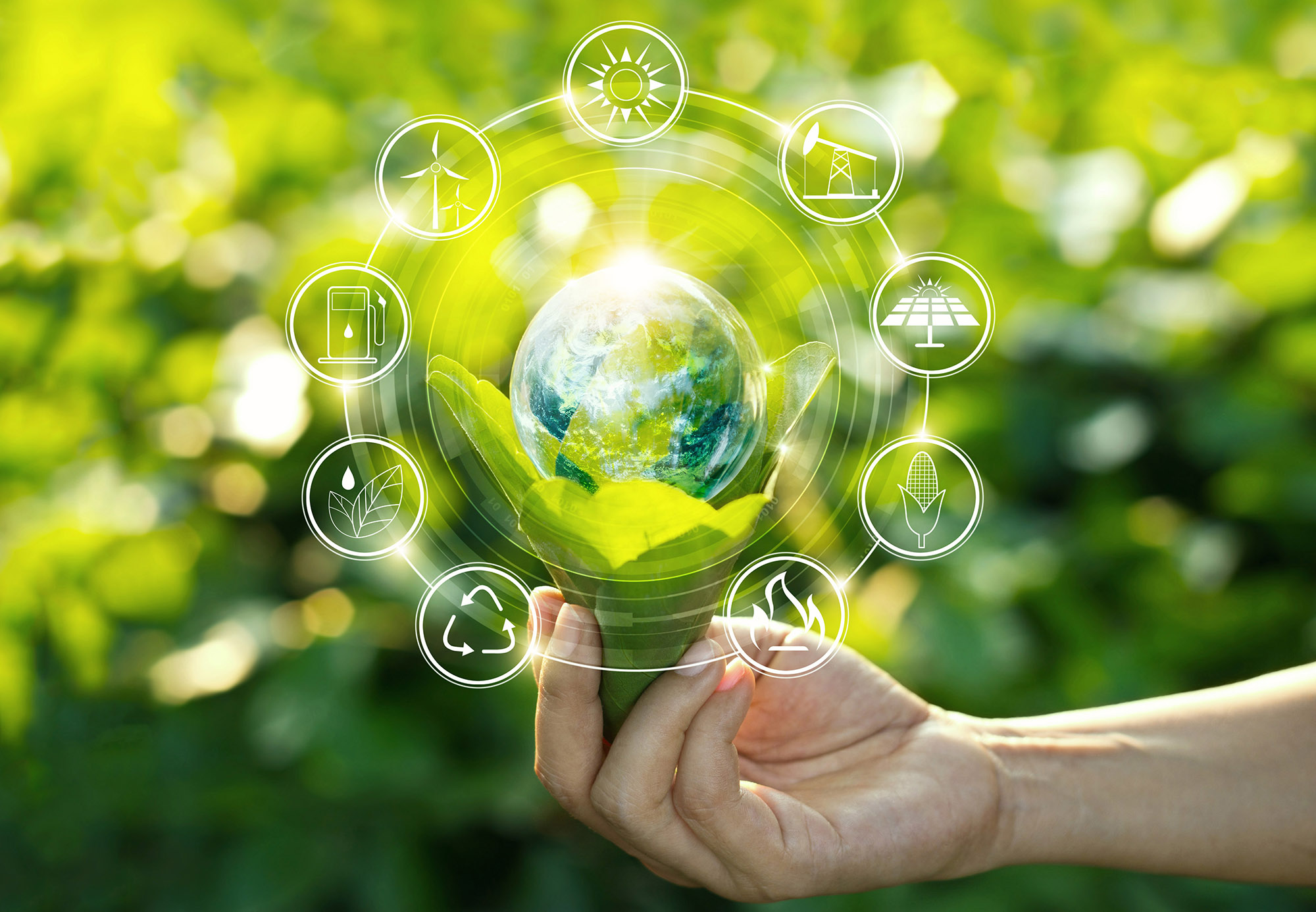 At Walker Products, we understand the importance of reducing our carbon footprint and doing our part to protect the environment. That's why we have made a commitment to sustainability by installing solar panels on our facility. This investment in renewable energy not only reduces our reliance on fossil fuels, but also helps to lower our carbon emissions and conserve valuable natural resources. We believe that the transition to clean, renewable energy, is crucial to the well-being of our planet and future generations. We are proud to be taking this step towards a more sustainable future and will continue to seek out new ways to reduce our environmental impact.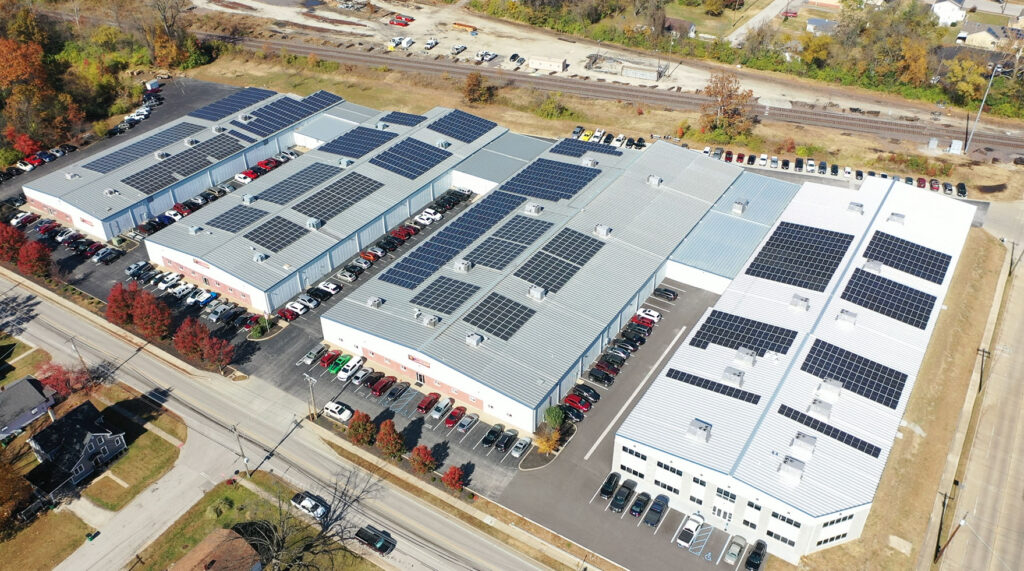 Our global headquarters underwent its first solar transformation in February of 2012. The Phase One installation was the first solar project in the state of Missouri to utilize a 335 watt "Lifeline Solar" monocrystalline solar panel and provided our offices with 30% of the energy they need. In 2019 we underwent a Phase Two installation which doubled the number of panels for an even more impressive 70% savings in electrical usage. In late 2022, our final Phase Three solar installation was completed, providing another double-digit savings in electrical usage.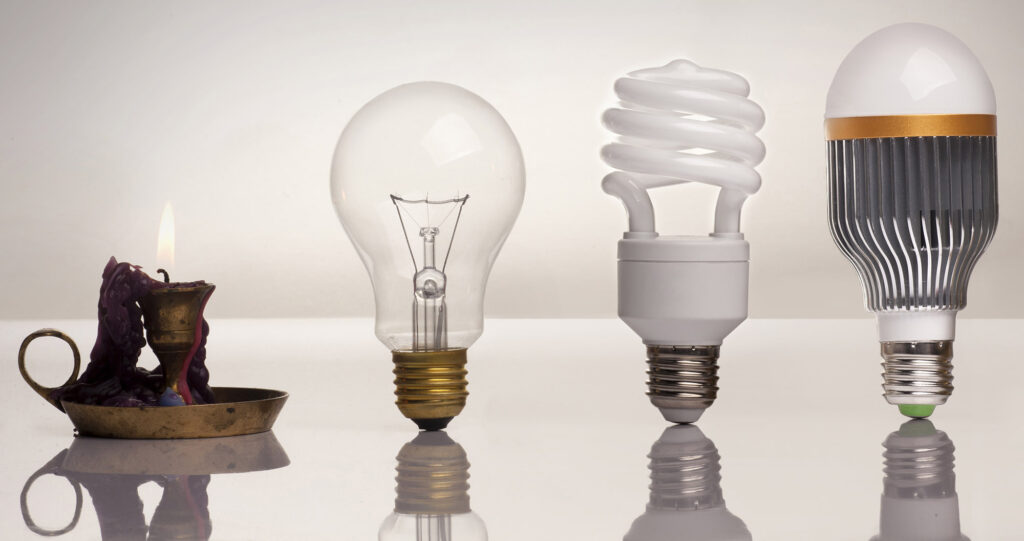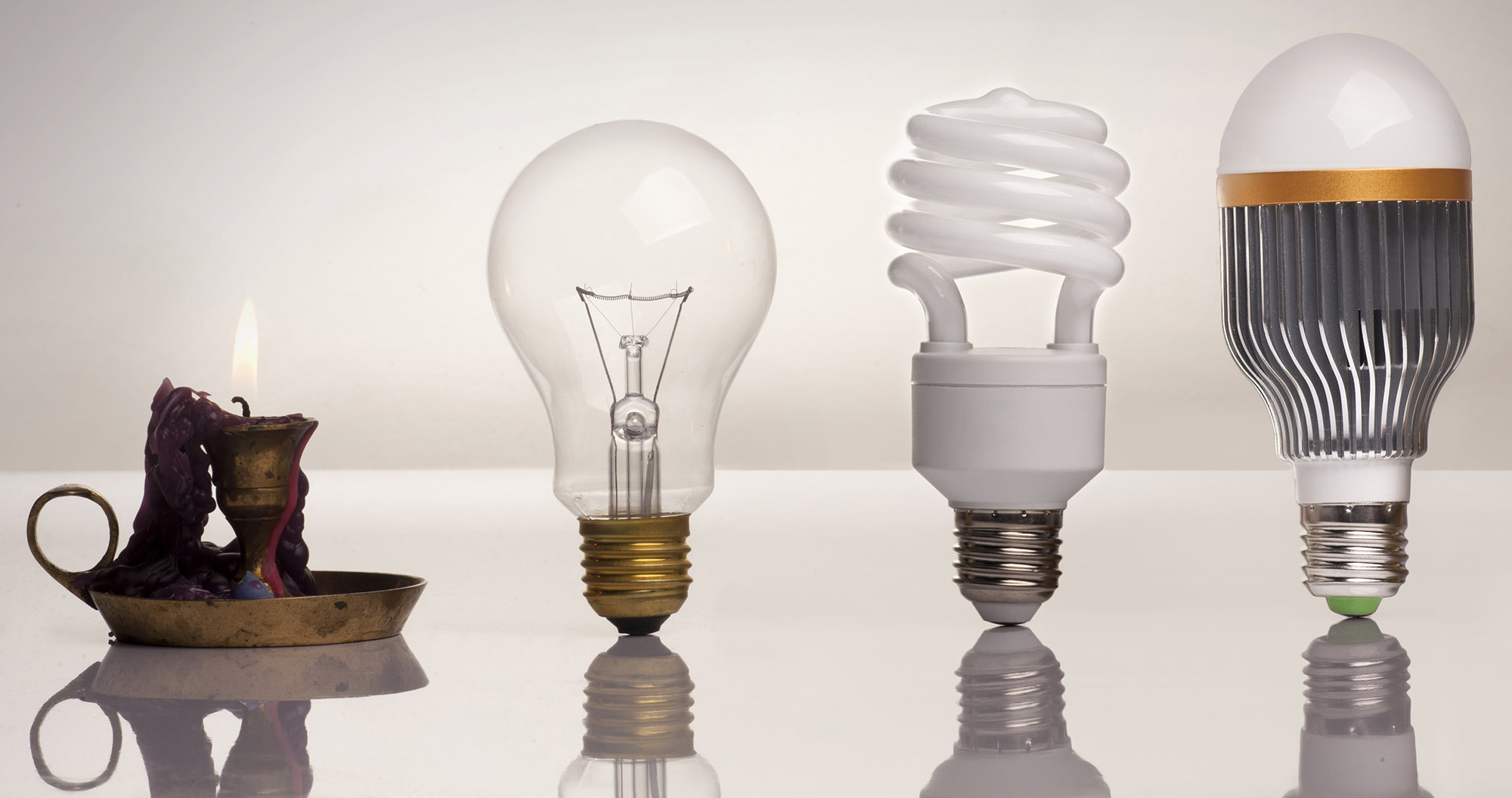 In addition, we installed more than 1,000 LED bulbs in our offices and manufacturing facilities in the fall of 2016. In our recent expansion in 2022, we only used LED fixtures to maintain consistency and efficiency throughout the entire campus. LED bulbs use less energy and last longer than traditional incandescent bulbs, leading to less energy consumption and less waste. They also do not contain hazardous materials such as mercury, making them safer for the environment in the event of breakage. Additionally, LED bulb production has a lower carbon footprint compared to incandescent bulb production.
We are committed to reducing our impact on the environment through responsible waste management. Our recycling program plays a crucial role in this effort. By diverting waste from landfills, we not only reduce our carbon footprint, but also conserve precious natural resources and support the development of a circular economy. Our program includes the recycling of paper, plastics, glass, and other materials. Additionally, we work with certified recycling facilities to ensure that all materials are processed in an environmentally responsible manner. Through this program, we are taking a step towards a more sustainable future and sending a message to our employees, customers, and the community that we are committed to environmental stewardship.
SOCIAL
Walker Products is a proud family-owned business with a rich history of quality and innovation. We are dedicated to providing our customers with the best products and services and take great pride in our heritage as a family-owned and operated company. Our family values of honesty, integrity, and hard work are at the core of everything we do and drive our commitment to excellence in everything we produce. As a family-owned company, we have the unique ability to make decisions that prioritize the well-being of our employees, customers, community, and to build lasting relationships based on mutual trust and respect. We believe that this foundation is what sets us apart and allows us to provide our customers with a level of care and attention that may not be found throughout our industry. We are proud of our family heritage and look forward to serving our customers for generations to come.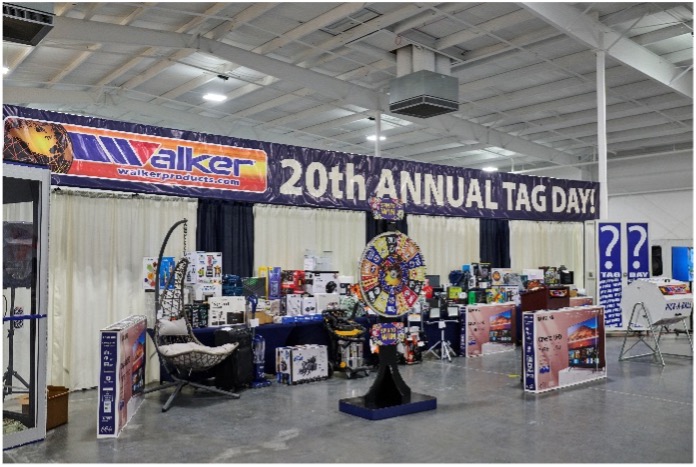 Teamwork, Appreciation, and Growth is our internal "TAG Line". Our company believes that taking care of our employees is just as important as providing quality products and services to our customers. That's why we have established TAG Day, a day dedicated to giving back to our employees and showing our appreciation for their hard work and dedication. On TAG Day, our employees are treated to a day of fun, food, and festivities, and are given the opportunity to bond with their colleagues and make new friends. This day is just one of the many ways we show our employees how much we value them and their contributions to our company. Additionally, we have implemented numerous employee wellness programs and initiatives, including flexible work arrangements and opportunities for professional development, to ensure that our employees are happy, healthy, and fulfilled in their work. By investing in our employees, we are building a strong, resilient, and successful company that will serve our customers for years to come.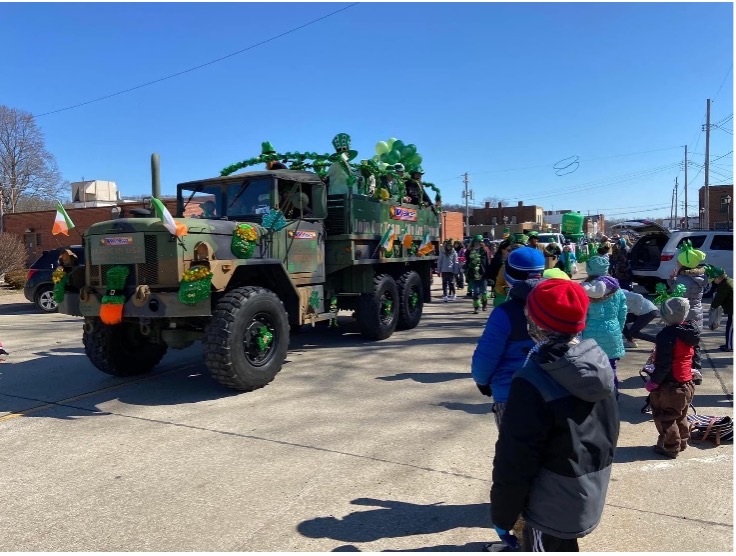 At Walker Products, we are committed to creating a workplace that is inclusive and respectful of all individuals, regardless of their race, ethnicity, gender, sexual orientation, age, religion, or any other personal characteristic. We believe that diversity and inclusiveness are key drivers of creativity, innovation, and success, and that everyone should have the opportunity to reach their full potential in the workplace. That's why we are an equal opportunity employer. We offer all employees a level playing field, and make hiring decisions based solely on merit, experience, and qualifications. No matter who you are, if you have the skills and passion for the job, we want you to join our team. We are committed to building a workplace where everyone feels valued, respected, and supported, and where everyone has the opportunity to succeed. By embracing diversity and inclusiveness, we are creating a workplace that is not only more equitable, but also more dynamic, innovative, and successful.
We understand the importance of giving back to the communities in which we operate. That's why we have initiated blood drives and food pantry drives at our locations. These initiatives allow us to support local hospitals and food banks and make a positive impact on the health and well-being of those in need.

Our blood drives help to ensure that there is a steady supply of life-saving blood for those in need, and our food pantry drives provide support to families who may be struggling to put food on the table. By giving back in this way, we are not only making a difference in the lives of those in our community, but also building stronger relationships with the communities in which we operate. We believe that it is our responsibility to be a good corporate citizen and to play an active role in making the world a better place. We look forward to continuing our blood drives and food pantry drives and making a positive impact on the communities in which we serve.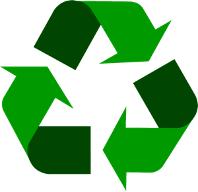 At Walker Products, we are committed to promoting sustainability and reducing waste, and this includes reducing the waste generated by our own employees. That's why we have started an internal clothing exchange program. This program allows employees who have gently used clothing items they no longer need, to exchange them with other employees who may be in need. By reducing the amount of waste generated by our employees and promoting the reuse of gently used clothing items, we are making a positive impact on the environment and helping our employees save money. Additionally, this program helps to build a stronger sense of community within our workplace by encouraging employees to share and support each other. Walker Products is also proud to support the automotive remanufacturing and rebuilding industry. We believe that remanufacturing is a critical component of a sustainable future, as it allows for the reuse and repurposing of high-quality materials, reducing waste, and minimizing the environmental impact of new production. Our commitment to supporting the automotive remanufacturing industry is reflected in the high-quality products and services we provide to this industry. We are dedicated to helping our customers in the automotive remanufacturing industry succeed by providing them with the best possible products and services, and by continuously improving our offerings to meet their evolving needs. At Walker Products, we believe that every small step counts when it comes to creating a more sustainable future, and this clothing exchange program is just one of the many ways we are working towards this goal.
GOVERNANCE
Walker Products is a family-owned company that operates under a flat organizational structure to foster teamwork, collaboration, and open communication. The company is governed by a Board of Directors and led by a President, who are responsible for setting the strategic direction of the company and overseeing its day-to-day operations. The various departments, such as sales, marketing, engineering, and operations, are each lead by a department leader who report to the President. These department leaders play a critical role in ensuring the success of the company by managing their teams and executing the company goals. To maintain a high level of efficiency, transparency, and accountability, Walker Products has established regular team meetings, performance reviews, and goal-setting processes. This organizational structure allows us to work together as a team toward our shared goals and provides a supportive and empowering environment for all employees to grow and succeed.