The Mass Air Flow Sensor (MAF) measures the amount of air by weight through changing voltages and sends this information to the vehicle's onboard computer. The computer then uses this, with other input, to calculate the correct amount of fuel to be delivered to the engine.
Sensor Only vs. Complete Sensor and Housing Assembly Replacement:
The Walker Mass Air Flow Sensor program offers replacement sensors in both Sensor Only and Complete Sensor and Housing Assemblies. Sensor only replacement is typically faster and more economical but some manufacturers recommend that you replace the complete housing assembly to ensure the connector air tubes are clean and to protect the sensor itself, which can be damaged by oils on your hands or even air pollution.
Common causes of a Mass Air Flow Sensor failure:
• Contamination due to oil or dirt entering sensor
• Air filter contamination or failure
• Vacuum Leak
• Wiring issues
Symptoms of failing a Mass Air Flow Sensor may include:
• Poor starting or no start
• Engine surging or stalling
• Check Engine Light on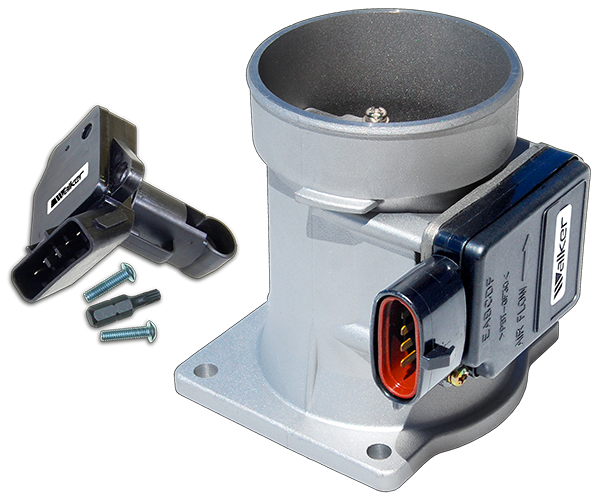 The following OBD II error codes are the most commonly found with this product type. On-Board Diagnostic (OBD) systems are integrated into the computers of our vehicles to monitor emissions. The first generation of OBD requirements was implemented in California in 1988. Since then, these requirements were adopted by the US EPA for all passenger vehicles manufactured after 1996. In 2005, OBD systems then also became mandatory for heavy-duty vehicles and engines up to 14,000 lbs. GVWR. In 2008 the EPA finalized OBD regulations for 2010 and later heavy-duty engines used in highway vehicles over 14,000 lbs. GVWR and made changes to the OBD requirements for heavy-duty applications up to 14,000 lbs. GVWR to align them with requirements for applications over 14,000 lbs. GVWR.
OBD II is now the standard in diagnosing vehicle emissions in. The codes listed for this product type are common instances that may relate to your vehicle and should be used as a guide only. Walker Products will not be held responsible for any use of this information. It is highly suggested that you consult with a professionally trained mechanic prior to any automotive repair, and that you follow all vehicle manufacturer and EPA guidelines for removal, replacement, diagnostics, OBD II code clearing, ECU and PCM relearn procedures.
o P006A MAP – Mass or Volume Air Flow Correlation
o P00B8 MAP – Mass or Volume Air Flow Correlation
o P00BC Mass or Volume Air Flow "A" Circuit Range/Performance – Air
o P00BD Mass or Volume Air Flow "A" Circuit Range/Performance – Air
o P00BE Mass or Volume Air Flow "B" Circuit Range/Performance – Air
o P00BF Mass or Volume Air Flow "B" Circuit Range/Performance – Air
o P0100 Mass or Volume Air Flow "A" Circuit
o P0101 Mass or Volume Air Flow "A" Circuit Range/Performance
o P0102 Mass or Volume Air Flow "A" Circuit Low
o P0103 Mass or Volume Air Flow "A" Circuit High
o P0104 Mass or Volume Air Flow "A" Circuit Intermittent
o P010A Mass or Volume Air Flow "B" Circuit
o P010B Mass or Volume Air Flow "B" Circuit Range/Performance
o P010C Mass or Volume Air Flow "B" Circuit Low
o P010D Mass or Volume Air Flow "B" Circuit High
o P010E Mass or Volume Air Flow "B" Circuit Intermittent/Erratic
o P010F Mass or Volume Air Flow Sensor A/B Correlation
o P061D Internal Control Module Engine Air Mass Performance
o P2073 Manifold Absolute Pressure/Mass Air Flow – Throttle Position
o P2074 Manifold Absolute Pressure/Mass Air Flow – Throttle Position