Mass Air Flow Sensors, crucial components in modern vehicles, play a pivotal role by measuring the amount of air through weight-based voltage changes. This vital information is then transmitted to the onboard computer of the vehicle, enabling precise fuel calculations for optimal engine performance. Walker Products takes pride in its comprehensive Mass Air Flow Sensor (MAF) program that offers replacement sensors in two formats: Sensor Only and Complete Sensor and Housing Assemblies.
Walker Products takes pride in its commitment to producing high-quality Mass Air Flow Sensors right here in the USA. Designed to cater to vehicle applications with the most demanding MAF requirements, Walker's USA Made Mass Air Flow Sensors stand as a testament to precision and excellence. Leveraging advanced manufacturing techniques, Walker employs robotic PCB assembly and soldering processes to ensure consistent quality and reliability. What sets Walker's sensors apart is the meticulous customization of circuit boards, which are programmed to mirror the exact OE signal curves required for each specific vehicle application. This dedication to precision engineering ensures that every Walker Mass Air Flow Sensor delivers accurate and reliable performance, meeting or exceeding OE standards for functionality and accuracy.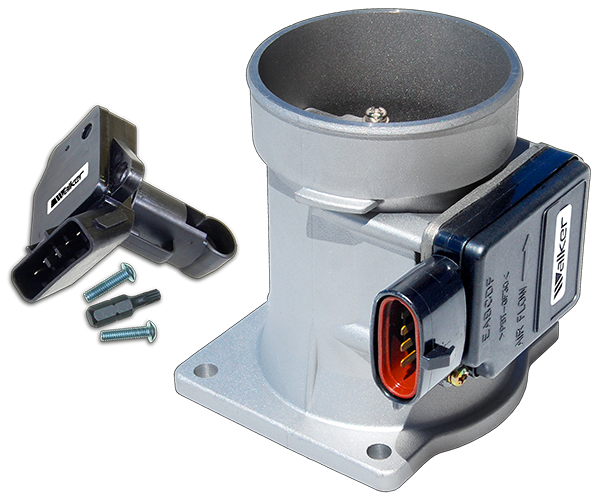 When opting for the Walker Mass Air Flow Sensor program, you'll find the flexibility to choose between Sensor Only and Complete Sensor and Housing Assemblies replacements. The Sensor Only replacement route is often more expedient and cost-effective. However, certain manufacturers recommend the replacement of the entire housing assembly to guarantee cleanliness within the connector air tubes and to safeguard the sensor from potential harm caused by hand oils or environmental contaminants.
A multitude of factors can contribute to Mass Air Flow Sensor failure, necessitating timely attention. Contamination resulting from oil or dirt infiltrating the sensor, air filter malfunction or contamination, vacuum leaks, and wiring issues are some common culprits leading to MAF sensor malfunction. Addressing these issues promptly can prevent further complications and restore your vehicle's optimal performance.
Detecting the signs of a failing Mass Air Flow Sensor is crucial to ensuring your vehicle's smooth operation. Indicators of a compromised MAF sensor encompass a range of symptoms such as difficult starting or failure to start, erratic engine surges, stalling, and the illumination of the Check Engine Light. Monitoring these signs can prompt timely interventions and prevent potential damage to your vehicle's engine and performance.
With Walker Products' commitment to delivering reliable Mass Air Flow Sensors, your vehicle's air and fuel systems are in capable hands. The precision and accuracy of these sensors are vital for maintaining fuel efficiency, engine performance, and emission control, making Walker Products a dependable choice for quality replacement parts. Whether you opt for the Sensor Only or Complete Sensor and Housing Assembly, rest assured that Walker Products stands as a reliable solution for your MAF sensor needs.
Incorporating cutting-edge technology and a wide range of sensor types, Walker Products ensures a comprehensive approach to engine monitoring and performance optimization. Integrated seamlessly with crucial components like the inlet air temperature sensor, throttle position sensor, and engine control module, these sensors provide real-time data to the vehicle's OBD-II system. Should any irregularities arise, the check engine light acts as an early warning system, indicating issues such as fuel injection anomalies, air intake system problems, and potential emission concerns. The benefits are improved fuel economy, enhanced engine performance, and reduced vehicle emissions. By addressing symptoms like engine misfires, stalling, rough idle, acceleration hesitation, and engine surging, Walker's advanced sensors play a pivotal role in maintaining the overall health and efficiency of your vehicle.
The following OBD II error codes are the most commonly found with this product type. On-Board Diagnostic (OBD) systems are integrated into the computers of our vehicles to monitor emissions. The first generation of OBD requirements was implemented in California in 1988. Since then, these requirements were adopted by the US EPA for all passenger vehicles manufactured after 1996. In 2005, OBD systems then also became mandatory for heavy-duty vehicles and engines up to 14,000 lbs. GVWR. In 2008 the EPA finalized OBD regulations for 2010 and later heavy-duty engines used in highway vehicles over 14,000 lbs. GVWR and made changes to the OBD requirements for heavy-duty applications up to 14,000 lbs. GVWR to align them with requirements for applications over 14,000 lbs. GVWR.
OBD II is now the standard in diagnosing vehicle emissions in. The codes listed for this product type are common instances that may relate to your vehicle and should be used as a guide only. Walker Products will not be held responsible for any use of this information. It is highly suggested that you consult with a professionally trained mechanic prior to any automotive repair, and that you follow all vehicle manufacturer and EPA guidelines for removal, replacement, diagnostics, OBD II code clearing, ECU and PCM relearn procedures.
o P006A MAP – Mass or Volume Air Flow Correlation
o P00B8 MAP – Mass or Volume Air Flow Correlation
o P00BC Mass or Volume Air Flow "A" Circuit Range/Performance – Air
o P00BD Mass or Volume Air Flow "A" Circuit Range/Performance – Air
o P00BE Mass or Volume Air Flow "B" Circuit Range/Performance – Air
o P00BF Mass or Volume Air Flow "B" Circuit Range/Performance – Air
o P0100 Mass or Volume Air Flow "A" Circuit
o P0101 Mass or Volume Air Flow "A" Circuit Range/Performance
o P0102 Mass or Volume Air Flow "A" Circuit Low
o P0103 Mass or Volume Air Flow "A" Circuit High
o P0104 Mass or Volume Air Flow "A" Circuit Intermittent
o P010A Mass or Volume Air Flow "B" Circuit
o P010B Mass or Volume Air Flow "B" Circuit Range/Performance
o P010C Mass or Volume Air Flow "B" Circuit Low
o P010D Mass or Volume Air Flow "B" Circuit High
o P010E Mass or Volume Air Flow "B" Circuit Intermittent/Erratic
o P010F Mass or Volume Air Flow Sensor A/B Correlation
o P061D Internal Control Module Engine Air Mass Performance
o P2073 Manifold Absolute Pressure/Mass Air Flow – Throttle Position
o P2074 Manifold Absolute Pressure/Mass Air Flow – Throttle Position