Engine Variable Timing Solenoids and Sprockets
The Engine Variable Valve Timing Solenoid (VVT) sends oil pressure to the Variable Timing Sprocket, also referred to as VTS or Cam Phaser, allowing the Phaser to retard or advance the camshaft position. The Cam Phaser (VTS) connects the camshaft to the timing belt and keeps the timing belt in the same rotation as the crankshaft depending on the speed and load of the engine for optimum engine performance. Variable valve timing technology was introduced to increase engine performance without sacrificing fuel economy. When operating correctly, the variable valve timing system can adjust engine timing at specific RPM ranges or under various engine load situations.
Common causes of Variable Timing Solenoid failure:
• Dirty engine oil clogging the screen
• Low engine oil level
• Lack of basic maintenance
• Failed solenoid due to poor quality
Symptoms of a failing Variable Timing Solenoid may include:
• Rough idle
• Decrease in fuel economy
• Engine stumbles when going uphill or carrying load
• Loud and rough idle
• Engine knock
• Engine will not function at a high rpm
• Check Engine Light on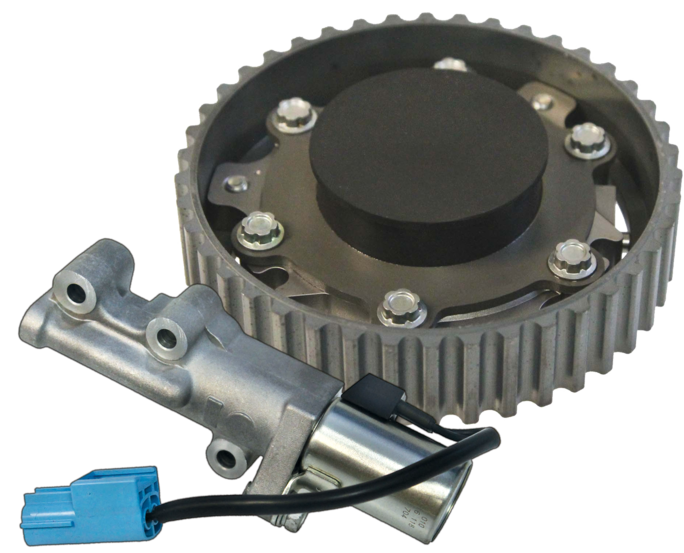 The following OBD II error codes are the most commonly found with this product type. On-Board Diagnostic (OBD) systems are integrated into the computers of our vehicles to monitor emissions. The first generation of OBD requirements was implemented in California in 1988. Since then, these requirements were adopted by the US EPA for all passenger vehicles manufactured after 1996. In 2005, OBD systems then also became mandatory for heavy-duty vehicles and engines up to 14,000 lbs. GVWR. In 2008 the EPA finalized OBD regulations for 2010 and later heavy-duty engines used in highway vehicles over 14,000 lbs. GVWR and made changes to the OBD requirements for heavy-duty applications up to 14,000 lbs. GVWR to align them with requirements for applications over 14,000 lbs. GVWR.
OBD II is now the standard in diagnosing vehicle emissions in. The codes listed for this product type are common instances that may relate to your vehicle and should be used as a guide only. Walker Products will not be held responsible for any use of this information. It is highly suggested that you consult with a professionally trained mechanic prior to any automotive repair, and that you follow all vehicle manufacturer and EPA guidelines for removal, replacement, diagnostics, OBD II code clearing, ECU and PCM relearn procedures.
o P0010 Camshaft Position Actuator Circuit Bank 1
o P0011 Camshaft Position Timing Over-advanced or System Fault Bank 1
o P0012 Camshaft Position Timing Over-retarded Bank 1
o P0013 Camshaft Position Actuator Circuit Bank 1
o P0014 Camshaft Position Timing Over-Advanced or System Fault Bank 1
o P0015 Camshaft Position Timing Over-Retarded Bank 1
o P0020 Camshaft Position Actuator Circuit Bank 2
o P0021 Camshaft Position Timing Over-Advanced or System Fault Bank 2
o P0022 Camshaft Position Timing Over-Retarded Bank 2
o P0023 Camshaft Position Actuator Circuit Bank 2
o P0024 Camshaft Position Timing Over-Advanced or System Fault Bank2
o P0025 Camshaft Position Timing Over-Retarded Bank2
o P1349 Variable Valve Timing System Malfunction Bank 1