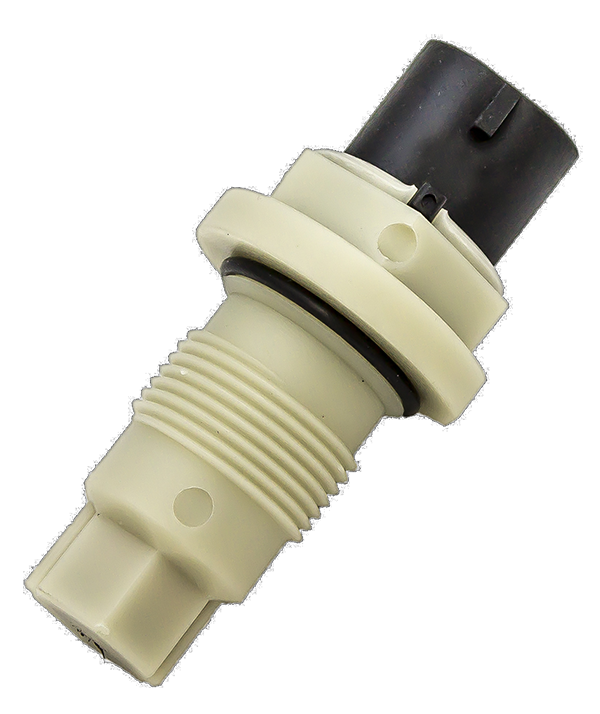 The Vehicle Speed Sensor, or VSS, sends electrical pulses to the vehicle's onboard engine computer, also referred to as PCM or ECU, that are generated through a magnet that spins a sensor coil. When the vehicle's speed increases, the frequency of the pulse increases. These sensors are generally located in the vehicle's transmission, differential, or near the wheels so that vehicle speed can be accurately measured.
Common causes of Vehicle Speed Sensor failure:
• Loose or broken ABS wheel speed sensor
• Faulty connections
• Sensor is dirty
Symptoms of a failing Vehicle Speed Sensor may include:
• Speedometer behaves erratically or not at all
• Harsh or improper shifting
• Loss of cruise control
• Surging
• Hesitation
• Check Engine Light on
The following OBD II error codes are the most commonly found with this product type. On-Board Diagnostic (OBD) systems are integrated into the computers of our vehicles to monitor emissions. The first generation of OBD requirements was implemented in California in 1988. Since then, these requirements were adopted by the US EPA for all passenger vehicles manufactured after 1996. In 2005, OBD systems then also became mandatory for heavy-duty vehicles and engines up to 14,000 lbs. GVWR. In 2008 the EPA finalized OBD regulations for 2010 and later heavy-duty engines used in highway vehicles over 14,000 lbs. GVWR and made changes to the OBD requirements for heavy-duty applications up to 14,000 lbs. GVWR to align them with requirements for applications over 14,000 lbs. GVWR.
OBD II is now the standard in diagnosing vehicle emissions in. The codes listed for this product type are common instances that may relate to your vehicle and should be used as a guide only. Walker Products will not be held responsible for any use of this information. It is highly suggested that you consult with a professionally trained mechanic prior to any automotive repair, and that you follow all vehicle manufacturer and EPA guidelines for removal, replacement, diagnostics, OBD II code clearing, ECU and PCM relearn procedures.
o P0500 Vehicle Speed Sensor "A"
o P0501 Vehicle Speed Sensor "A" Range/Performance
o P0502 Vehicle Speed Sensor "A" Circuit Low
o P0503 Vehicle Speed Sensor "A" Intermittent/Erratic/High
o P0574 Cruise Control System – Vehicle Speed Too High
o P062C Internal Control Module Vehicle Speed Performance
o P2158 Vehicle Speed Sensor "B"
o P2159 Vehicle Speed Sensor "B" Range/Performance
o P215A Vehicle Speed – Wheel Speed Correlation
o P215B Vehicle Speed – Output Shaft Speed Correlation
o P2160 Vehicle Speed Sensor "B" Circuit Low
o P2161 Vehicle Speed Sensor "B" Intermittent/Erratic/High
o P2162 Vehicle Speed Sensor "A"/"B" Correlation
o P215C Output Shaft Speed – Wheel Speed Correlation
o C0031 Left Front Wheel Speed Sensor (Subfault)
o C0032 Left Front Wheel Speed Sensor Supply (Subfault)
o C0034 Right Front Wheel Speed Sensor (Subfault)
o C0035 Right Front Wheel Speed Sensor Supply (Subfault)
o C0037 Left Rear Wheel Speed Sensor (Subfault)
o C0038 Left Rear Wheel Speed Sensor Supply (Subfault)
o C003A Right Rear Wheel Speed Sensor (Subfault)
o C003B Right Rear Wheel Speed Sensor Supply (Subfault)
o C003D Rear Wheel Speed Sensor (Subfault)
o C003E Rear Wheel Speed Sensor Supply (Subfault)
o C0040 Right Front Wheel Speed Sensor Circuit
o P0791 Intermediate Shaft Speed Sensor "A" Circuit
o P0792 Intermediate Shaft Speed Sensor "A" Circuit Range/Performance
o P0793 Intermediate Shaft Speed Sensor "A" Circuit no Signal
o P0794 Intermediate Shaft Speed Sensor "A" Circuit Intermittent
o P215B Vehicle Speed – Output Shaft Speed Correlation
o P2745 Intermediate Shaft Speed Sensor "B" Circuit
o P2746 Intermediate Shaft Speed Sensor "B" Circuit Range/Performance
o P2747 Intermediate Shaft Speed Sensor "B" Circuit no Signal
o P2748 Intermediate Shaft Speed Sensor "B" Circuit Intermittent
o P2749 Intermediate Shaft Speed Sensor "C" Circuit
o P2750 Intermediate Shaft Speed Sensor "C" Circuit Range/Performance
o P2751 Intermediate Shaft Speed Sensor "C" Circuit no Signal
o P2752 Intermediate Shaft Speed Sensor "C" Circuit Intermittent