ThunderCore™PRO Wire Sets
Walker Products recently introduced a new and fully reconstructed ThunderCore™PRO ignition wire program. With over 650 part numbers, this product line consists of 100% OE style replacement ignition wires, each specifically engineered to the vehicle and manufacturer requirements. All wire sets are made with superior materials, from the cable cores, to the high temperature resistant outer jacketing, to the terminal ends.
The ThunderCore™PRO ignition wire program breaks the trend of one size fits all. Each vehicle manufacturer engineers and designs the vehicles ignition system in a particular way so that all components work together to achieve optimum performance and fuel economy. By replacing these components, such as ignition wires, with our ThunderCore™PRO, you can rest assured that your vehicle will retain exact OE Fit, Form and Function.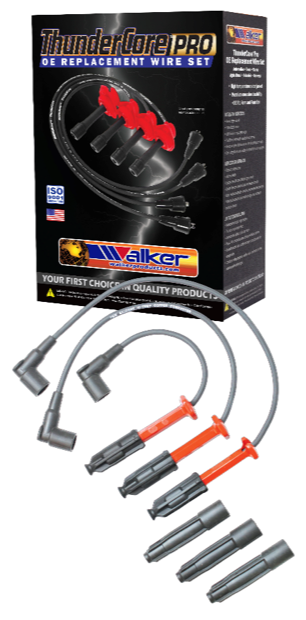 Each cable is wire-wound with a high strength Aramid core. Then, surrounded by a resistive sheath and covered with OE equivalent, EPDM insulation. Premium corrosion resistant snap lock terminals that click into place ensure easy installation and removal.
As a basic manufacturer of ignition wire sets, with our plant located in Palmetto, Florida USA, we also serve several additional markets. Our capabilities allow us to engineer and build ignition wires for High Performance and Othermotive® applications, such as Marine, Agricultural, Lawn & Garden, and Industrial engines. We also have the ability to make custom wire sets utilizing any preferred packaging methods.