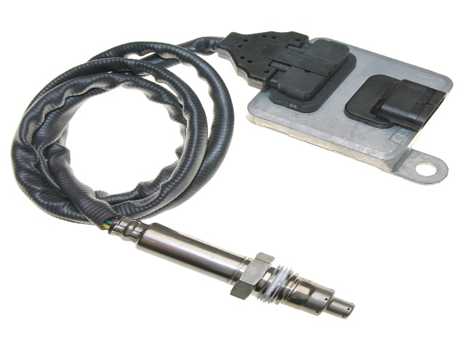 The NOx Sensor is a sensor commonly mounted on the exhaust system before the catalytic converter that monitors the nitrogen oxide level being emitted by a diesel engine. This information is relayed to the engine's onboard computer or PCM, which uses this data to regulate valve timing and fuel mixture. Most diesel engines feature an upstream and downstream sensor.
Common causes of NOx sensor failure:
• Soot buildup
• Water in the vehicle's computer, or PCM
Symptoms of a failing NOx Sensor may include:
• Increased fuel consumption
• Unstable idle
The following OBD II error codes are the most commonly found with this product type.
On-Board Diagnostic (OBD) systems are integrated into the computers of our vehicles to monitor emissions. The first generation of OBD requirements was implemented in California in 1988. Since then, these requirements were adopted by the US EPA for all passenger vehicles manufactured after 1996. In 2005, OBD systems then also became mandatory for heavy-duty vehicles and engines up to 14,000 lbs. GVWR. In 2008 the EPA finalized OBD regulations for 2010 and later heavy-duty engines used in highway vehicles over 14,000 lbs. GVWR and made changes to the OBD requirements for heavy-duty applications up to 14,000 lbs. GVWR to align them with requirements for applications over 14,000 lbs. GVWR.
OBD II is now the standard in diagnosing vehicle emissions in. The codes listed for this product type are common instances that may relate to your vehicle and should be used as a guide only. Walker Products will not be held responsible for any use of this information. It is highly suggested that you consult with a professionally trained mechanic prior to any automotive repair, and that you follow all vehicle manufacturer and EPA guidelines for removal, replacement, diagnostics, OBD II code clearing, ECU and PCM relearn procedures.
o P2000NOx Adsorber Efficiency Below Threshold
o P2001NOx Adsorber Efficiency Below Threshold
o P20ECSCR NOx Catalyst – Over Temperature
o P20EDSCR NOx Pre-Catalyst – Over Temperature
o P20EESCR NOx Catalyst Efficiency Below Threshold
o P20EFSCR NOx Pre- Catalyst Efficiency Below Threshold
o P20F0SCR NOx Catalyst – Over Temperature
o P20F1SCR NOx Pre-Catalyst – Over Temperature
o P20F2SCR NOx Catalyst Efficiency Below Threshold
o P20F3SCR NOx Pre- Catalyst Efficiency Below Threshold
o P2200NOx Sensor Circuit
o P2201NOx Sensor Circuit Range/Performance
o P2202NOx Sensor Circuit Low
o P2203NOx Sensor Circuit High
o P2204NOx Sensor Circuit Intermittent
o P2205NOx Sensor Heater Control Circuit/Open
o P2206NOx Sensor Heater Control Circuit Low
o P2207NOx Sensor Heater Control Circuit High
o P2208NOx Sensor Heater Sense Circuit
o P2209NOx Sensor Heater Sense Circuit Range/Performance
o P2210NOx Sensor Heater Sense Circuit Low
o P2211NOx Sensor Heater Sense Circuit High
o P2212NOx Sensor Heater Sense Circuit Intermittent
o P2213NOx Sensor Circuit
o P2214NOx Sensor Circuit Range/Performance
o P2215NOx Sensor Circuit Low
o P2216NOx Sensor Circuit High
o P2217NOx Sensor Circuit Intermittent
o P2218NOx Sensor Heater Control Circuit/Open
o P2219NOx Sensor Heater Control Circuit Low
o P2220NOx Sensor Heater Control Circuit High
o P2221NOx Sensor Heater Sense Circuit
o P2222NOx Sensor Heater Sense Circuit Range/Performance
o P2223NOx Sensor Heater Sense Circuit Low
o P2224NOx Sensor Heater Sense Circuit High
o P2225NOx Sensor Heater Sense Circuit Intermittent
o P2BA7NOx Exceedence – Empty Reagent Tank
o P2BA8NOx Exceedence – Interruption of Reagent Dosing Activity
o P2BA9NOx Exceedence – Insufficient Reagent Quality
o P2BAANOx Exceedence – Low Reagent Consumption
o P2BABNOx Exceedence – Incorrect EGR Flow
o P2BACNOx Exceedence – Deactivation of EGR
o P2BADNOx Exceedence – Root Cause Unknown
o P2BAENOx Exceedence – NOx control monitoring system
o U029DLost Communication With NOx Sensor "A"
o U029ELost Communication With NOx Sensor "B"
o U059EInvalid Data Received From NOx Sensor "A"
o U059FInvalid Data Received From NOx Sensor "B"