Fuel Injectors & Repair Kits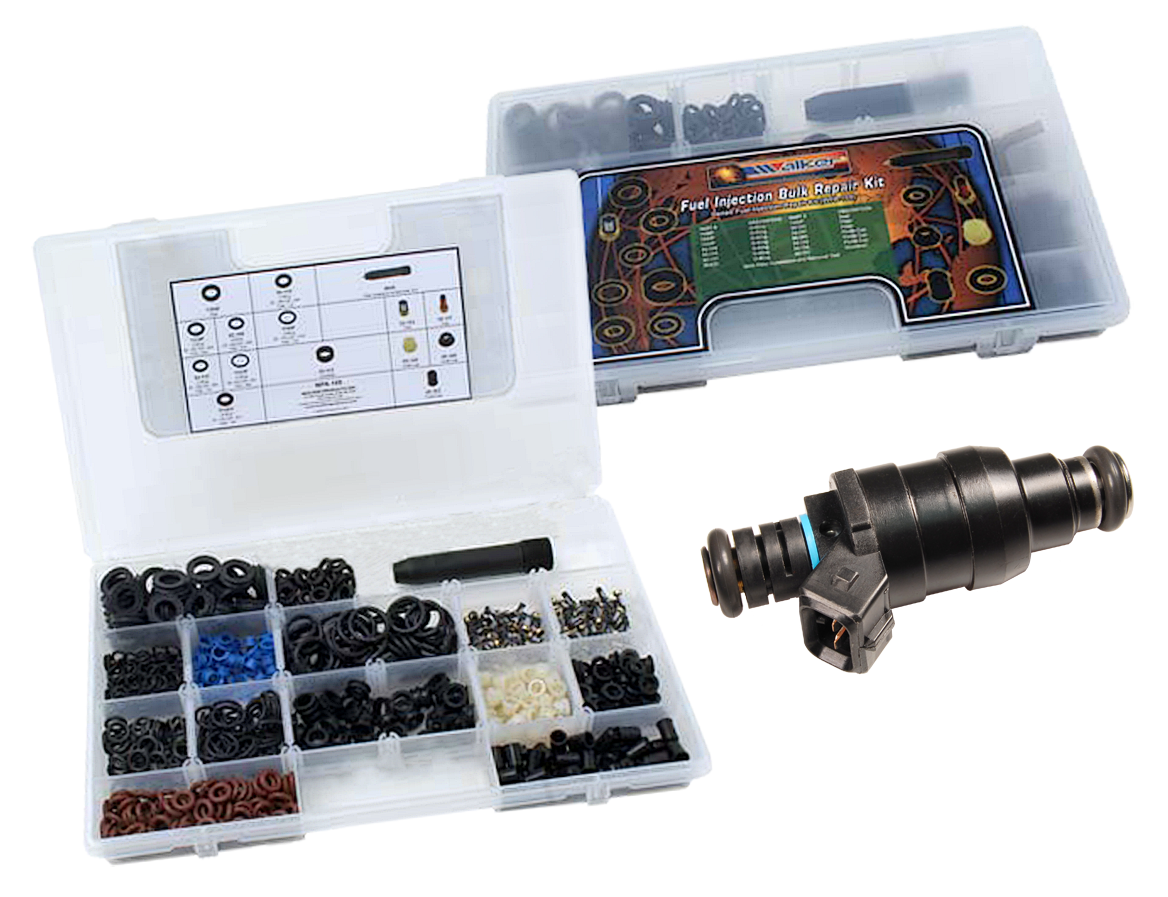 Fuel Injectors, whether Throttle Body Injection (TBI), Port Fuel Injection (PFI) or Direct Injection, are controlled by the vehicle's onboard computer (Powertrain Control Module (PCM) or Engine Control Unit (ECU), to meter and atomize the correct amount of fuel entering the engine under all operating conditions. TBI injectors spray a fuel pattern into the engine's throttle body. PFI injectors spray a more precise fuel pattern into each individual runner of the intake manifold. Direct Injection injectors utilize much higher pressures to spray fuel directly into each cylinder of the engine.
Walker also offers a full range of Fuel Injection Repair Kits so that you can service all types of fuel injectors during regular tune ups and maintenance. Repair kits offer solutions for bulk packaging of components, individual injector service kits and individual components for every repair instance.
Common causes of Fuel Injector failure:
• Component failure
• Fuel line leak
• Injector clogged with deposits or debris
• Low grade fuel (can rust and corrode the fuel system)
Symptoms of a failing Fuel Injector may include:
• Poor start or no start
• Difficult acceleration
• Engine surging
• Rough idle
• Poor fuel economy
• Check Engine Light on
The following OBD II error codes are the most commonly found with this product type. On-Board Diagnostic (OBD) systems are integrated into the computers of our vehicles to monitor emissions. The first generation of OBD requirements was implemented in California in 1988. Since then, these requirements were adopted by the US EPA for all passenger vehicles manufactured after 1996. In 2005, OBD systems then also became mandatory for heavy-duty vehicles and engines up to 14,000 lbs. GVWR. In 2008 the EPA finalized OBD regulations for 2010 and later heavy-duty engines used in highway vehicles over 14,000 lbs. GVWR and made changes to the OBD requirements for heavy-duty applications up to 14,000 lbs. GVWR to align them with requirements for applications over 14,000 lbs. GVWR.
OBD II is now the standard in diagnosing vehicle emissions in. The codes listed for this product type are common instances that may relate to your vehicle and should be used as a guide only. Walker Products will not be held responsible for any use of this information. It is highly suggested that you consult with a professionally trained mechanic prior to any automotive repair, and that you follow all vehicle manufacturer and EPA guidelines for removal, replacement, diagnostics, OBD II code clearing, ECU and PCM relearn procedures.
o P00BB Fuel Injector Insufficient Flow – Forced Limited Power
o P02CC Cylinder 1 Fuel Injector Offset Learning At Min Limit
o P02CD Cylinder 1 Fuel Injector Offset Learning At Max Limit
o P02CE Cylinder 2 Fuel Injector Offset Learning At Min Limit
o P02CF Cylinder 2 Fuel Injector Offset Learning At Max Limit
o P02D0 Cylinder 3 Fuel Injector Offset Learning At Min Limit
o P02D1 Cylinder 3 Fuel Injector Offset Learning At Max Limit
o P02D2 Cylinder 4 Fuel Injector Offset Learning At Min Limit
o P02D3 Cylinder 4 Fuel Injector Offset Learning At Max Limit
o P02D4 Cylinder 5 Fuel Injector Offset Learning At Min Limit
o P02D5 Cylinder 5 Fuel Injector Offset Learning At Max Limit
o P02D6 Cylinder 6 Fuel Injector Offset Learning At Min Limit
o P02D7 Cylinder 6 Fuel Injector Offset Learning At Max Limit
o P02D8 Cylinder 7 Fuel Injector Offset Learning At Min Limit
o P02D9 Cylinder 7 Fuel Injector Offset Learning At Max Limit
o P02DA Cylinder 8 Fuel Injector Offset Learning At Min Limit
o P02DB Cylinder 8 Fuel Injector Offset Learning At Max Limit
o P02DC Cylinder 9 Fuel Injector Offset Learning At Min Limit
o P02DD Cylinder 9 Fuel Injector Offset Learning At Max Limit
o P02DE Cylinder 10 Fuel Injector Offset Learning At Min Limit
o P02DF Cylinder 10 Fuel Injector Offset Learning At Max Limit
o P0611 Fuel Injector Control Module Performance
o P0612 Fuel Injector Control Module Relay Control
o P062B Internal Control Module Fuel Injector Control Performance
o P062D Fuel Injector Driver Circuit Performance
o P062E Fuel Injector Driver Circuit Performance
o P2146 Fuel Injector Group "A" Supply Voltage Circuit/Open
o P2147 Fuel Injector Group "A" Supply Voltage Circuit Low
o P2148 Fuel Injector Group "A" Supply Voltage Circuit High
o P2149 Fuel Injector Group "B" Supply Voltage Circuit/Open
o P2150 Fuel Injector Group "B" Supply Voltage Circuit Low
o P2151 Fuel Injector Group "B" Supply Voltage Circuit High
o P2152 Fuel Injector Group "C" Supply Voltage Circuit/Open
o P2153 Fuel Injector Group "C" Supply Voltage Circuit Low
o P2154 Fuel Injector Group "C" Supply Voltage Circuit High
o P2155 Fuel Injector Group "D" Supply Voltage Circuit/Open
o P2156 Fuel Injector Group "D" Supply Voltage Circuit Low
o P2157 Fuel Injector Group "D" Supply Voltage Circuit High
o P216A Fuel Injector Group "E" Supply Voltage Circuit/Open
o P216B Fuel Injector Group "E" Supply Voltage Circuit Low
o P216C Fuel Injector Group "E" Supply Voltage Circuit High
o P216D Fuel Injector Group "F" Supply Voltage Circuit/Open
o P216E Fuel Injector Group "F" Supply Voltage Circuit Low
o P216F Fuel Injector Group "F" Supply Voltage Circuit High
o P217A Fuel Injector Group "G" Supply Voltage Circuit/Open
o P217B Fuel Injector Group "G" Supply Voltage Circuit Low
o P217C Fuel Injector Group "G" Supply Voltage Circuit High
o P217D Fuel Injector Group "H" Supply Voltage Circuit/Open
o P217E Fuel Injector Group "H" Supply Voltage Circuit Low
o P217F Fuel Injector Group "H" Supply Voltage Circuit High
o P268A Fuel Injector Calibration not Learned/Programmed
o U0105 Lost Communication With Fuel Injector Control Module
o U0306 Software Incompatibility With Fuel Injector Control Module
o U0406 Invalid Data Received From Fuel Injector Control Module
o P0171 System Too Lean
o P0174 System Too Lean
o P2096 Post Catalyst Fuel Trim System Too Lean
o P2098 Post Catalyst Fuel Trim System Too Lean
o P2177 System Too Lean Off Idle
o P2179 System Too Lean Off Idle
o P2187 System Too Lean at Idle
o P2189 System Too Lean at Idle
o P2191 System Too Lean at Higher Load
o P2193 System Too Lean at Higher Load
o P0172 System Too Rich
o P0175 System Too Rich
o P2097 Post Catalyst Fuel Trim System Too Rich
o P2099 Post Catalyst Fuel Trim System Too Rich
o P2178 System Too Rich Off Idle
o P2180 System Too Rich Off Idle
o P2188 System Too Rich at Idle
o P2190 System Too Rich at Idle
o P2192 System Too Rich at Higher Load
o P2194 System Too Rich at Higher Load
o P0170 Fuel Trim
o P0173 Fuel Trim
o P029A Cylinder 1 – Fuel Trim at Max Limit
o P029B Cylinder 1 – Fuel Trim at Min Limit
o P029E Cylinder 2 – Fuel Trim at Max Limit
o P029F Cylinder 2 – Fuel Trim at Min Limit
o P02A2 Cylinder 3 – Fuel Trim at Max Limit
o P02A3 Cylinder 3 – Fuel Trim at Min Limit
o P02A6 Cylinder 4 – Fuel Trim at Max Limit
o P02A7 Cylinder 4 – Fuel Trim at Min Limit
o P02AA Cylinder 5 – Fuel Trim at Max Limit
o P02AB Cylinder 5 – Fuel Trim at Min Limit
o P02AE Cylinder 6 – Fuel Trim at Max Limit
o P02AF Cylinder 6 – Fuel Trim at Min Limit
o P02B2 Cylinder 7 – Fuel Trim at Max Limit
o P02B3 Cylinder 7 – Fuel Trim at Min Limit
o P02B6 Cylinder 8 – Fuel Trim at Max Limit
o P02B7 Cylinder 8 – Fuel Trim at Min Limit
o P02BA Cylinder 9 – Fuel Trim at Max Limit
o P02BB Cylinder 9 – Fuel Trim at Min Limit
o P02BE Cylinder 10 – Fuel Trim at Max Limit
o P02BF Cylinder 10 – Fuel Trim at Min Limit
o P02C2 Cylinder 11 – Fuel Trim at Max Limit
o P02C3 Cylinder 11 – Fuel Trim at Min Limit
o P02C6 Cylinder 12 – Fuel Trim at Max Limit
o P02C7 Cylinder 12 – Fuel Trim at Min Limit