Exhaust Gas Temperature Sensors, Bung & Plug Kits
The Exhaust Gas Temperature Sensor (EGTS), also commonly referred to as Exhaust Temperature Sensor (ETS) or High Temperature Sensor (HTS), measures temperature in the exhaust system (EGT) of the vehicle. The sensing element of an ETS/HTS changes in resistance with changes in temperature. The onboard computer, or ECU or PCM, then measures this resistance and calculates the actual temperature of the exhaust. This function protects the engine and exhaust components from overheating. EGT sensors are generally found on later model diesel vehicles and are used to protect the Diesel Particulate Filter (DPF) and ensure proper function of the DPF regeneration process. Some late model gasoline cars are now utilizing EGT sensor technologies to further fine tune fuel and ignition timing by carefully measuring exhaust gas temperatures as a relation to air/fuel ratios.
Walker Products has an extensive selection of exhaust Bungs & Plugs available in 303 Stainless Steel. Our exhaust Bungs & Plugs are made in house at our Screw Machine Facility in Fruita, Colorado USA. We offer these individually, in standard or custom stocking kits, and in bulk. We also offer Custom Bungs & Plugs for any of your exhaust or special needs.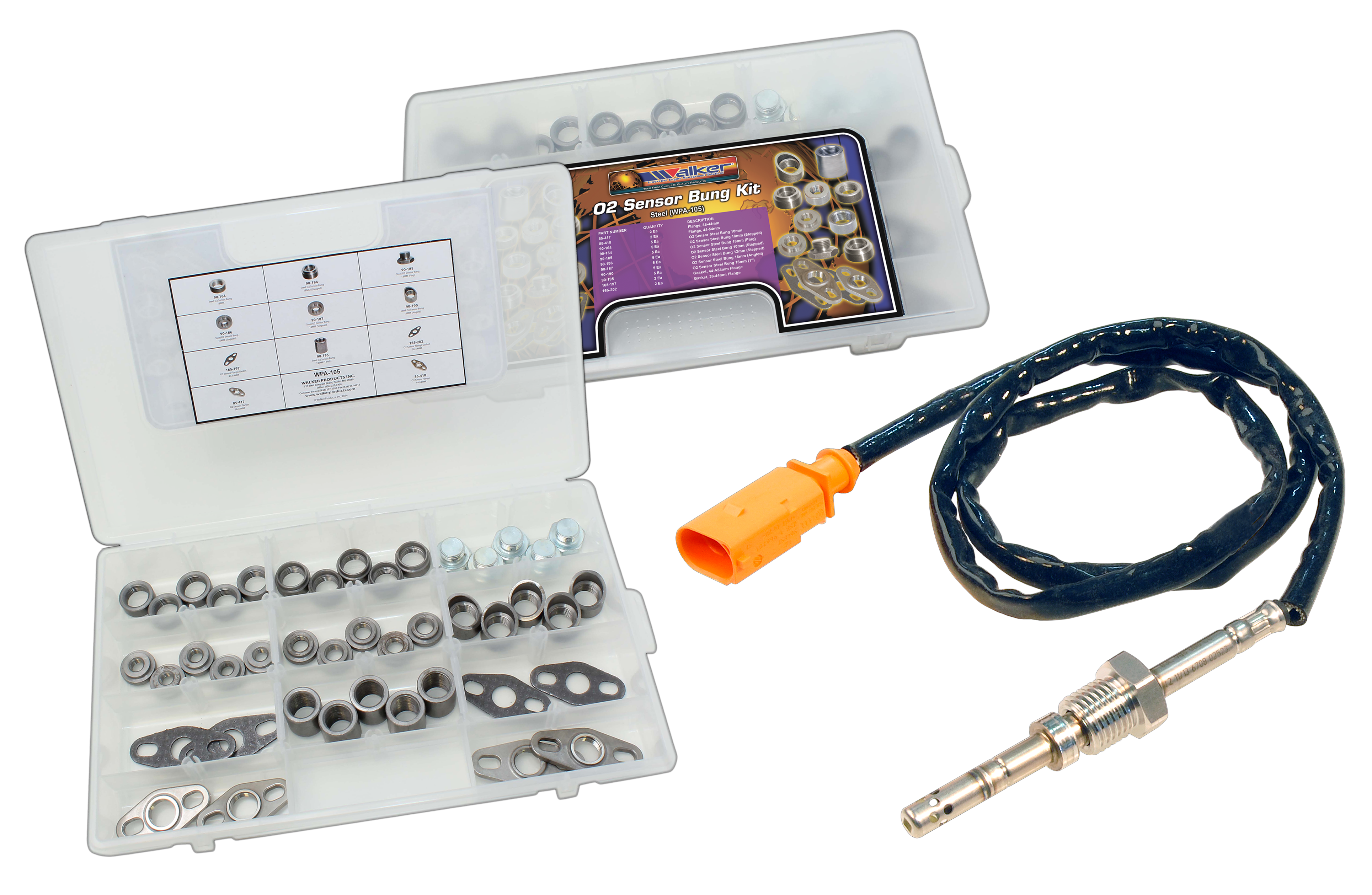 Common causes of Engine Temperature Sensor failure:
• Electrical issue
• Wear and tear
• Clogged Diesel Particulate Filter (DPF)
Symptoms of a failing Engine Temperature Sensor may include:
• Poor fuel economy
• Engine overheats
• Black smoke coming from engine
• Surging
• Limp Mode – vehicle speed reduced
• Check Engine Light on
The following OBD II error codes are the most commonly found with this product type.
On-Board Diagnostic (OBD) systems are integrated into the computers of our vehicles to monitor emissions. The first generation of OBD requirements was implemented in California in 1988. Since then, these requirements were adopted by the US EPA for all passenger vehicles manufactured after 1996. In 2005, OBD systems then also became mandatory for heavy-duty vehicles and engines up to 14,000 lbs. GVWR. In 2008 the EPA finalized OBD regulations for 2010 and later heavy-duty engines used in highway vehicles over 14,000 lbs. GVWR and made changes to the OBD requirements for heavy-duty applications up to 14,000 lbs. GVWR to align them with requirements for applications over 14,000 lbs. GVWR.
OBD II is now the standard in diagnosing vehicle emissions in. The codes listed for this product type are common instances that may relate to your vehicle and should be used as a guide only. Walker Products will not be held responsible for any use of this information. It is highly suggested that you consult with a professionally trained mechanic prior to any automotive repair, and that you follow all vehicle manufacturer and EPA guidelines for removal, replacement, diagnostics, OBD II code clearing, ECU and PCM relearn procedures.
o P0544 Exhaust Gas Temperature Sensor Circuit
o P0545 Exhaust Gas Temperature Sensor Circuit Low
o P0546 Exhaust Gas Temperature Sensor Circuit High
o P0547 Exhaust Gas Temperature Sensor Circuit
o P0548 Exhaust Gas Temperature Sensor Circuit Low
o P0549 Exhaust Gas Temperature Sensor Circuit High
o P2031 Exhaust Gas Temperature Sensor Circuit
o P2032 Exhaust Gas Temperature Sensor Circuit Low
o P2033 Exhaust Gas Temperature Sensor Circuit High
o P2034 Exhaust Gas Temperature Sensor Circuit
o P2035 Exhaust Gas Temperature Sensor Circuit Low
o P2036 Exhaust Gas Temperature Sensor Circuit High
o P2080 Exhaust Gas Temperature Sensor Circuit Range/Performance
o P2081 Exhaust Gas Temperature Sensor Circuit Intermittent
o P2082 Exhaust Gas Temperature Sensor Circuit Range/Performance
o P2083 Exhaust Gas Temperature Sensor Circuit Intermittent
o P2084 Exhaust Gas Temperature Sensor Circuit Range/Performance
o P2085 Exhaust Gas Temperature Sensor Circuit Intermittent
o P2086 Exhaust Gas Temperature Sensor Circuit Range/Performance
o P2087 Exhaust Gas Temperature Sensor Circuit Intermittent
o P20E2 Exhaust Gas Temperature Sensor 1/2 Correlation
o P20E3 Exhaust Gas Temperature Sensor 1/3 Correlation
o P20E4 Exhaust Gas Temperature Sensor 2/3 Correlation
o P20E5 Exhaust Gas Temperature Sensor 1/2 Correlation
o P2428 Exhaust Gas Temperature Too High
o P2429 Exhaust Gas Temperature Too High
o P242A Exhaust Gas Temperature Sensor Circuit
o P242B Exhaust Gas Temperature Sensor Circuit Range/Performance
o P242C Exhaust Gas Temperature Sensor Circuit Low
o P242D Exhaust Gas Temperature Sensor Circuit High
o P242E Exhaust Gas Temperature Sensor Circuit Intermittent/Erratic
o P2466 Exhaust Gas Temperature Sensor Circuit
o P2467 Exhaust Gas Temperature Sensor Circuit Range/Performance
o P2468 Exhaust Gas Temperature Sensor Circuit Low
o P2469 Exhaust Gas Temperature Sensor Circuit High
o P246A Exhaust Gas Temperature Sensor Circuit Intermittent/Erratic
o P246E Exhaust Gas Temperature Sensor Circuit
o P246F Exhaust Gas Temperature Sensor Circuit Range/Performance
o P2470 Exhaust Gas Temperature Sensor Circuit Low
o P2471 Exhaust Gas Temperature Sensor Circuit High
o P2472 Exhaust Gas Temperature Sensor Circuit Intermittent/Erratic
o P2473 Exhaust Gas Temperature Sensor Circuit
o P2474 Exhaust Gas Temperature Sensor Circuit Range/Performance
o P2475 Exhaust Gas Temperature Sensor Circuit Low
o P2476 Exhaust Gas Temperature Sensor Circuit High
o P2477 Exhaust Gas Temperature Sensor Circuit Intermittent/Erratic
o P2478 Exhaust Gas Temperature Out of Range
o P2479 Exhaust Gas Temperature Out of Range
o P247A Exhaust Gas Temperature Out of Range
o P247B Exhaust Gas Temperature Out of Range
o P247C Exhaust Gas Temperature Out of Range
o P247D Exhaust Gas Temperature Out of Range
o P247E Exhaust Gas Temperature Out of Range
o P247F Exhaust Gas Temperature Out of Range
o P2480 Exhaust Gas Temperature Sensor Circuit/Open
o P2481 Exhaust Gas Temperature Sensor Circuit Low
o P2482 Exhaust Gas Temperature Sensor Circuit High
o P2483 Exhaust Gas Temperature Sensor Circuit Range/Performance
o P2484 Exhaust Gas Temperature Sensor Circuit Intermittent/Erratic
o P2485 Exhaust Gas Temperature Sensor Circuit/Open
o P2486 Exhaust Gas Temperature Sensor Circuit Low
o P2487 Exhaust Gas Temperature Sensor Circuit High
o P2488 Exhaust Gas Temperature Sensor Circuit Range/Performance
o P2489 Exhaust Gas Temperature Sensor Circuit Intermittent/Erratic
o P2002 Diesel Particulate Filter Efficiency Below Threshold
o P2003 Diesel Particulate Filter Efficiency Below Threshold
o P200C Diesel Particulate Filter Over Temperature
o P200D Diesel Particulate Filter Over Temperature
o P242F Diesel Particulate Filter Restriction – Ash Accumulation
o P2458 Diesel Particulate Filter Regeneration Duration
o P2459 Diesel Particulate Filter Regeneration Frequency
o P2463 Diesel Particulate Filter Restriction – Soot Accumulation
o P246B Vehicle Conditions Incorrect for Diesel Particulate Filter
o P246C Diesel Particulate Filter Restriction – Forced Limited Power
o P246D Diesel Particulate Filter Pressure Sensor "A"/"B" Correlation
o P260E Diesel Particulate Filter Regeneration Lamp Control Circuit