Differential Pressure Sensors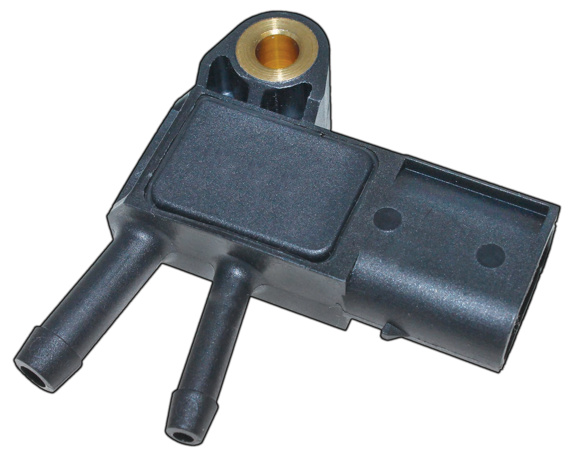 The Differential Pressure Sensor (DPS) monitors the performance of the Diesel Particulate Filter (DPF). The sensor operates by measuring the exhaust gas pressure upstream and downstream of the vehicle's DPF. By monitoring the pressure difference between these two points, the saturation level of the Particle Filter can be determined, and the vehicle's ECU can interpret the data to determine when to inject Diesel Exhaust Fluid (DEF) for regeneration.
Common causes of Differential Pressure Sensor failure:
• Contamination
• Clogged
• Electronics damaged from intense engine heat
• Vibration damage from prolonged exposure in the engine compartment
Symptoms of failing Differential Pressure Sensor may include:
• Engine will not start or starts poorly
• Detonation or misfire
• Excessive fuel consumption
• Lack of engine power
• Check Engine Light on
The following OBD II error codes are the most commonly found with this product type. In an effort to reduce vehicle emissions, the Environmental Protection Agency (EPA), mandated that all vehicles manufactured after 1996 would be equipped with OBD II (On Board Diagnostics 2) technology. OBD II is now the standard in diagnosing vehicle emissions, which was implemented by all automotive manufacturers in 1996. The codes listed for this product type are common instances that may relate to your vehicle and should be used as a guide only. Walker Products will not be held responsible for any use of this information. It is highly suggested that you consult with a professionally trained mechanic prior to any automotive repair, and that you follow all vehicle manufacturer and EPA guidelines for removal, replacement, diagnostics, OBD II code clearing, ECU, and PCM relearn procedures.
o P0068 MAP/MAF – Throttle Position Correlation
o P006A MAP – Mass or Volume Air Flow Correlation
o P006B MAP – Exhaust Pressure Correlation
o P006C MAP – Turbocharger/Supercharger Inlet Pressure Correlation
o P00B8 MAP – Mass or Volume Air Flow Correlation
o P0069 Manifold Absolute Pressure – Barometric Pressure Correlation
o P0105 Manifold Absolute Pressure/Barometric Pressure Circuit
o P0106 Manifold Absolute Pressure/Barometric Pressure Circuit
o P0107 Manifold Absolute Pressure/Barometric Pressure Circuit Low
o P0108 Manifold Absolute Pressure/Barometric Pressure Circuit High
o P0109 Manifold Absolute Pressure/Barometric Pressure Circuit Intermittent
o P023D Manifold Absolute Pressure – Turbocharger/Supercharger Boost
o P023E Manifold Absolute Pressure – Turbocharger/Supercharger Boost
o P2073 Manifold Absolute Pressure/Mass Air Flow – Throttle Position
o P2074 Manifold Absolute Pressure/Mass Air Flow – Throttle Position
o P2226 Barometric Pressure Sensor "A" Circuit
o P2227 Barometric Pressure Sensor "A" Circuit Range/Performance
o P2228 Barometric Pressure Sensor "A" Circuit Low
o P2229 Barometric Pressure Sensor "A" Circuit High
o P222A Barometric Pressure Sensor "B" Circuit
o P222B Barometric Pressure Sensor "B" Circuit Range/Performance
o P222C Barometric Pressure Sensor "B" Circuit Low
o P222D Barometric Pressure Sensor "B" Circuit High
o P222E Barometric Pressure Sensor "B" Circuit Intermittent/Erratic
o P222F Barometric Pressure Sensor "A"/"B" Correlation
o P2230 Barometric Pressure Sensor "A" Circuit Intermittent/Erratic
o P2262 Turbocharger/Supercharger Boost Pressure not Detected –
o P226B Turbocharger/Supercharger Boost Pressure Too High – Mechanical