Camshaft and Crankshaft Position Sensors
Camshaft Position Sensors (CMP)
Crankshaft Position Sensors (CKP)
The Crankshaft Position Sensor (CKP) and Camshaft Position Sensor (CMP) are used to monitor the position or rotational speed of the engine's internal rotating components, such as the camshaft(s) and crankshaft. This precise measurement is used to accurately identify the relationship between the pistons and valves in the engine. This information is sent to the computer (PCM) which utilizes it to control fuel injection and ignition timing.
Common causes of a Crankshaft and Camshaft Position Sensor failure include:
Faulty wiring harness is the most common issue (commonly caused from improper voltage, ground or return circuit problems as well as oil & debris)
Excessive heat being produced by the engine
Timing belt damage
Symptoms of a failing Camshaft or Crankshaft Position Sensor may include:
Vehicle idles roughly or stalls
Slow acceleration
Drop in engine power
Engine misfires or difficult starting
Engine will not start
Reduced fuel efficiency
Check Engine Light on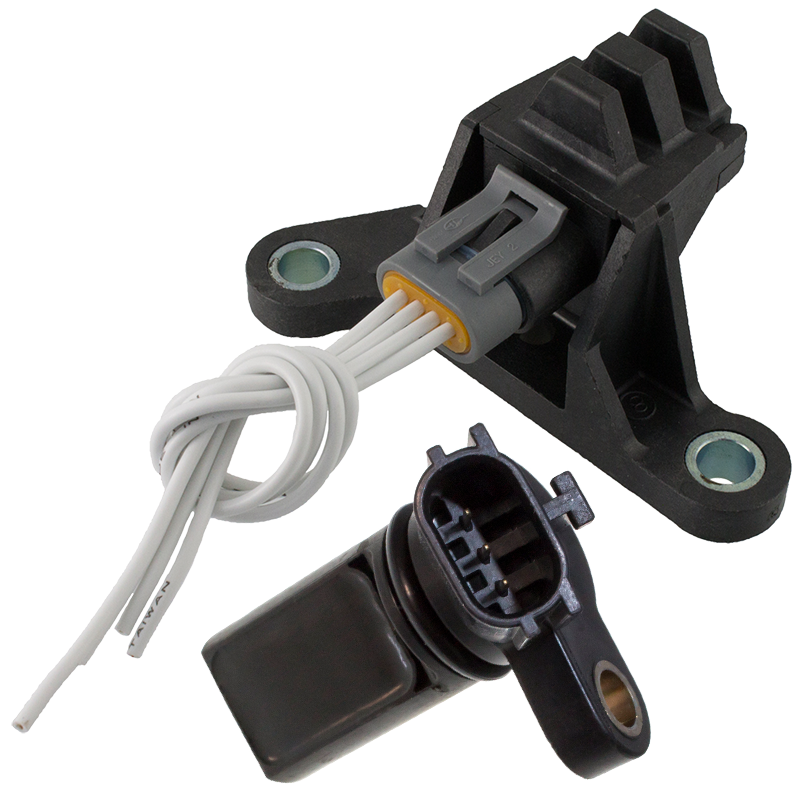 The following OBD II error codes are the most commonly found with this product type. On-Board Diagnostic (OBD) systems are integrated into the computers of our vehicles to monitor emissions. The first generation of OBD requirements was implemented in California in 1988. Since then, these requirements were adopted by the US EPA for all passenger vehicles manufactured after 1996. In 2005, OBD systems then also became mandatory for heavy-duty vehicles and engines up to 14,000 lbs. GVWR. In 2008 the EPA finalized OBD regulations for 2010 and later heavy-duty engines used in highway vehicles over 14,000 lbs. GVWR and made changes to the OBD requirements for heavy-duty applications up to 14,000 lbs. GVWR to align them with requirements for applications over 14,000 lbs. GVWR.
OBD II is now the standard in diagnosing vehicle emissions in. The codes listed for this product type are common instances that may relate to your vehicle and should be used as a guide only. Walker Products will not be held responsible for any use of this information. It is highly suggested that you consult with a professionally trained mechanic prior to any automotive repair, and that you follow all vehicle manufacturer and EPA guidelines for removal, replacement, diagnostics, OBD II code clearing, ECU and PCM relearn procedures.
o P000A "A" Camshaft Position Slow Response
o P000B "B" Camshaft Position Slow Response
o P000C "A" Camshaft Position Slow Response
o P000D "B" Camshaft Position Slow Response
o P0010 "A" Camshaft Position Actuator Circuit/Open
o P0011 "A" Camshaft Position – Timing Over-Advanced or System
o P0012 "A" Camshaft Position – Timing Over-Retarded
o P0013 "B" Camshaft Position – Actuator Circuit/Open
o P0014 "B" Camshaft Position – Timing Over-Advanced or System
o P0015 "B" Camshaft Position – Timing Over-Retarded
o P0016 Crankshaft Position – Camshaft Position Correlation
o P0017 Crankshaft Position – Camshaft Position Correlation
o P0018 Crankshaft Position – Camshaft Position Correlation
o P0019 Crankshaft Position – Camshaft Position Correlation
o P0020 "A" Camshaft Position Actuator Circuit/Open
o P0021 "A" Camshaft Position – Timing Over-Advanced or System
o P0022 "A" Camshaft Position – Timing Over-Retarded
o P0023 "B" Camshaft Position – Actuator Circuit/Open
o P0024 "B" Camshaft Position – Timing Over-Advanced or System
o P0025 "B" Camshaft Position – Timing Over-Retarded
o P0340 Camshaft Position Sensor "A" Circuit
o P0341 Camshaft Position Sensor "A" Circuit Range/Performance
o P0342 Camshaft Position Sensor "A" Circuit Low
o P0343 Camshaft Position Sensor "A" Circuit High
o P0344 Camshaft Position Sensor "A" Circuit Intermittent
o P0345 Camshaft Position Sensor "A" Circuit
o P0346 Camshaft Position Sensor "A" Circuit Range/Performance
o P0347 Camshaft Position Sensor "A" Circuit Low
o P0348 Camshaft Position Sensor "A" Circuit High
o P0349 Camshaft Position Sensor "A" Circuit Intermittent
o P0365 Camshaft Position Sensor "B" Circuit
o P0366 Camshaft Position Sensor "B" Circuit Range/Performance
o P0367 Camshaft Position Sensor "B" Circuit Low
o P0368 Camshaft Position Sensor "B" Circuit High
o P0369 Camshaft Position Sensor "B" Circuit Intermittent
o P0390 Camshaft Position Sensor "B" Circuit
o P0391 Camshaft Position Sensor "B" Circuit Range/Performance
o P0392 Camshaft Position Sensor "B" Circuit Low
o P0393 Camshaft Position Sensor "B" Circuit High
o P0394 Camshaft Position Sensor "B" Circuit Intermittent
o P052A Cold Start "A" Camshaft Position Timing Over-Advanced
o P052B Cold Start "A" Camshaft Position Timing Over-Retarded
o P052C Cold Start "A" Camshaft Position Timing Over-Advanced
o P052D Cold Start "A" Camshaft Position Timing Over-Retarded
o P054A Cold Start "B" Camshaft Position Timing Over-Advanced
o P054B Cold Start "B" Camshaft Position Timing Over-Retarded
o P054C Cold Start "B" Camshaft Position Timing Over-Advanced
o P054D Cold Start "B" Camshaft Position Timing Over-Retarded
o P2088 "A" Camshaft Position Actuator Control Circuit Low
o P2089 "A" Camshaft Position Actuator Control Circuit High
o P2090 "B" Camshaft Position Actuator Control Circuit Low
o P2091 "B" Camshaft Position Actuator Control Circuit High
o P2092 "A" Camshaft Position Actuator Control Circuit Low
o P2093 "A" Camshaft Position Actuator Control Circuit High
o P2094 "B" Camshaft Position Actuator Control Circuit Low
o P2095 "B" Camshaft Position Actuator Control Circuit High
o P2614 Camshaft Position Signal Output Circuit/Open
o P2615 Camshaft Position Signal Output Circuit Low
o P2616 Camshaft Position Signal Output Circuit High
o P0016 Crankshaft Position – Camshaft Position Correlation
o P0017 Crankshaft Position – Camshaft Position Correlation
o P0018 Crankshaft Position – Camshaft Position Correlation
o P0019 Crankshaft Position – Camshaft Position Correlation
o P0315 Crankshaft Position System Variation not Learned
o P0335 Crankshaft Position Sensor "A" Circuit
o P0336 Crankshaft Position Sensor "A" Circuit Range/Performance
o P0337 Crankshaft Position Sensor "A" Circuit Low
o P0338 Crankshaft Position Sensor "A" Circuit High
o P0339 Crankshaft Position Sensor "A" Circuit Intermittent
o P0385 Crankshaft Position Sensor "B" Circuit
o P0386 Crankshaft Position Sensor "B" Circuit Range/Performance
o P0387 Crankshaft Position Sensor "B" Circuit Low
o P0388 Crankshaft Position Sensor "B" Circuit High
o P0389 Crankshaft Position Sensor "B" Circuit Intermittent
o P2617 Crankshaft Position Signal Output Circuit/Open
o P2618 Crankshaft Position Signal Output Circuit Low
o P2619 Crankshaft Position Signal Output Circuit High