Anti-lock Brake System (ABS) Sensors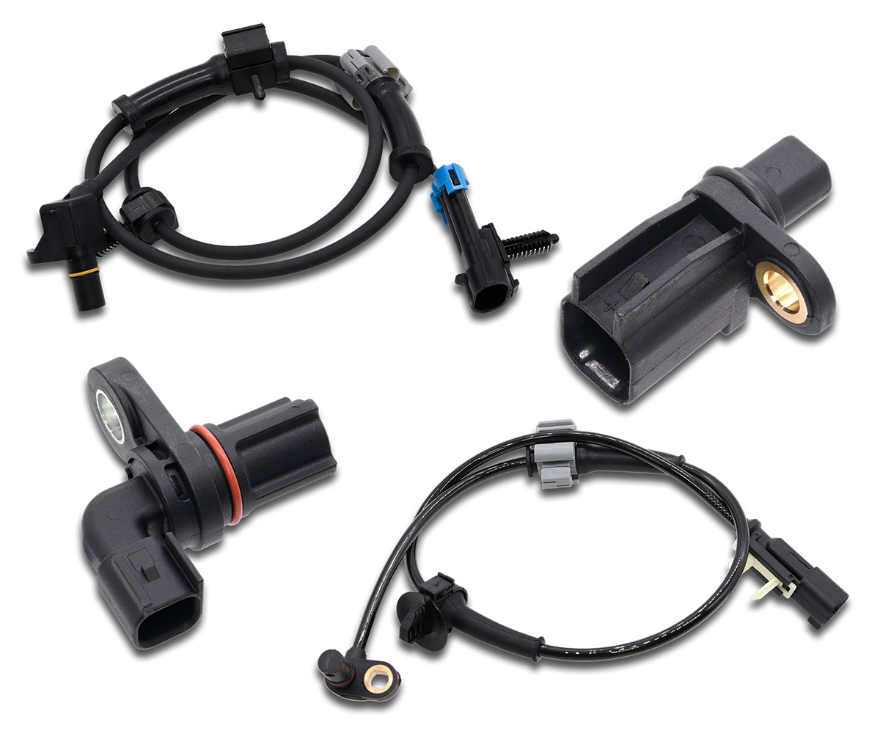 Anti-lock Brake System (ABS) sensors are electronic devices that are critical for the proper functioning of the ABS system in modern vehicles. They work with the ABS control module to help prevent the wheels from locking up during hard braking, allowing drivers to maintain control of their vehicles.
ABS sensors come in two main types, the wheel speed sensor and the yaw rate sensor. The wheel speed sensor is located at each wheel and sends information about the speed of each wheel to the ABS control module. It uses a magnet and a coil to generate a voltage that is proportional to the wheel speed, which is then sent to the ABS control module for calculation of the rotational speed of each wheel.
The yaw rate sensor, on the other hand, measures the vehicle's rotation around its vertical axis and sends this information to the ABS control module. It uses a piezoelectric crystal to measure changes in acceleration and deceleration of the vehicle's body. The yaw rate sensor also works with the lateral acceleration sensor to determine the direction of the vehicle.
The ABS control module uses the information from these sensors to determine when a wheel is about to lock up and applies the brakes to that wheel in a pulsing manner. This pulsing helps prevent the wheel from locking up, allowing the driver to maintain control of the vehicle during hard braking. The ABS control module also communicates with the vehicle's engine control module to adjust the engine's output and prevent the wheels from losing traction.
It is crucial to maintain and repair ABS sensors regularly for optimal vehicle performance and safety. ABS sensors can become dirty or damaged over time, resulting in incorrect readings and poor ABS system performance. It is recommended to have the ABS sensors checked and cleaned during regular vehicle maintenance and replaced if necessary.
Walker Products is a reputable manufacturer of ABS sensors with over 70 years of experience in producing automotive sensors. Walker's ABS sensors are engineered to meet or exceed OE specifications, ensuring accurate and reliable functioning. They use high-quality materials, such as stainless steel and high-temperature plastics, to withstand harsh environments and extreme temperatures. Walker Products' ABS sensors undergo rigorous testing to ensure they meet the highest quality standards.
Professional technicians and DIY'ers choose Walker Products ABS sensors for their reliability, durability, and accuracy. With an easy installation process and exceptional quality, Walker Products' ABS sensors offer a cost-effective solution for those in need of ABS sensor replacement. Walker Products has an extensive product line of ABS sensors, covering a wide range of makes and models, ensuring there is an option for nearly every vehicle.
In conclusion, ABS sensors are essential safety features in modern vehicles that require proper maintenance and repair for optimal performance and safety. Choosing high-quality ABS sensors from a reputable manufacturer like Walker Products ensures accurate and reliable functioning of the ABS system, providing peace of mind for drivers and passengers alike.
The following OBD II error codes are the most commonly found with this product type. On-Board Diagnostic (OBD) systems are integrated into the computers of our vehicles to monitor emissions. The first generation of OBD requirements was implemented in California in 1988. Since then, these requirements were adopted by the US EPA for all passenger vehicles manufactured after 1996. In 2005, OBD systems then also became mandatory for heavy-duty vehicles and engines up to 14,000 lbs. GVWR. In 2008 the EPA finalized OBD regulations for 2010 and later heavy-duty engines used in highway vehicles over 14,000 lbs. GVWR and made changes to the OBD requirements for heavy-duty applications up to 14,000 lbs. GVWR to align them with requirements for applications over 14,000 lbs. GVWR.
OBD II is now the standard in diagnosing vehicle emissions in. The codes listed for this product type are common instances that may relate to your vehicle and should be used as a guide only. Walker Products will not be held responsible for any use of this information. It is highly suggested that you consult with a professionally trained mechanic prior to any automotive repair, and that you follow all vehicle manufacturer and EPA guidelines for removal, replacement, diagnostics, OBD II code clearing, ECU and PCM relearn procedures.
• C0035 – Left Front Wheel Speed Circuit Malfunction
• C0040 – Right Front Wheel Speed Circuit Malfunction
• C0041 – Right Front Wheel Speed Sensor Circuit Range/Performance
• C0045 – Left Rear Wheel Speed Circuit Malfunction
• C0050 – Right Rear Wheel Speed Circuit Malfunction
• C0051 – Right Rear Wheel Speed Sensor Circuit Range/Performance
• C0055 – Left Front Wheel Speed Sensor Circuit Malfunction
• C0060 – Left Front Wheel Speed Sensor Circuit Range/Performance
• C0070 – Rear Wheel Speed Sensor Circuit Malfunction
• C0071 – Rear Wheel Speed Sensor Circuit Range/Performance
• C0075 – Right Front ABS Solenoid #1 Circuit Shorted
• C0080 – Left Front ABS Solenoid #1 Circuit Shorted
• C0085 – Right Front ABS Solenoid #2 Circuit Shorted
• C0090 – Left Front ABS Solenoid #2 Circuit Shorted
• C0100 – Right Front ABS Solenoid #1 Circuit Open
• C0105 – Left Front ABS Solenoid #1 Circuit Open
• C0110 – Right Front ABS Solenoid #2 Circuit Open
• C0115 – Left Front ABS Solenoid #2 Circuit Open
• C0121 – Valve Relay Circuit Malfunction
• C0131 – ABS/TCS System Pressure Circuit Malfunction
• C0141 – Left Front ABS Channel Enable Circuit Malfunction
• C0151 – Right Front ABS Channel Enable Circuit Malfunction
• C0161 – ABS/TCS Brake Switch Circuit Malfunction
• C0176 – Right Rear Wheel Speed Sensor Input Circuit Malfunction
• C0181 – Left Rear Wheel Speed Sensor Input Circuit Malfunction
• C0196 – Yaw Rate Circuit Malfunction
• C0210 – Right Front ABS Sensor Circuit Malfunction
• C0220 – Right Front ABS Sensor Circuit Range/Performance
• C0230 – Rear Wheel ABS Sensor Circuit Malfunction
• C0240 – Rear Wheel ABS Sensor Circuit Range/Performance
• C0251 – Left Front ABS Sensor Circuit Malfunction
• C0265 – Electronic Brake Control Module Motor Relay Circuit
• C0267 – Pump Motor Circuit Open/Shorted
• C0270 – ABS/TCS Motor Circuit Malfunction
• C0272 – ABS/TCS Brake Motor Relay Circuit Malfunction
• C0277 – Front Left Wheel Speed Sensor Circuit Malfunction
• C0278 – Rear Right Wheel Speed Sensor Circuit Malfunction
• C0279 – Rear Left Wheel Speed Sensor Circuit Malfunction
• C0280 – Front Right Wheel Speed Sensor Circuit Malfunction
• C0281 – ABS Indicator Lamp Circuit Malfunction
• C0283 – Traction Control Switch Circuit Malfunction
• C0287 – Traction Control Switch Circuit Low
• C0288 – Traction Control Switch Circuit High
• C0292 – Left Rear ABS Solenoid #1 Circuit Shorted
• C0295 – Right Rear ABS Solenoid #1 Circuit Shorted
• C0300 – Rear ABS Motor Circuit Malfunction
• C0305 – Front ABS Motor Circuit Malfunction
• C0310 – Rear ABS Pump Motor Circuit Malfunction
• C0315 – Front ABS Pump Motor Circuit Malfunction
• C0321 – Front ABS Solenoid #1 Circuit Shorted
• C0325 – Rear ABS Solenoid #1 Circuit Shorted
• C0330 – Front ABS Solenoid #2 Circuit Shorted
• C0335 – Rear ABS Solenoid #2 Circuit Shorted
• C0340 – Left Rear ABS Channel Enable Circuit Malfunction
• C0350 – Right Rear ABS Channel Enable Circuit Mal