TPMS Sensors
Why Walker TPMS Sensors?
The wheel-mounted design of Walker TPMS sensors minimizes the risk of damage during tire changes, reducing maintenance costs and downtime. Moreover, these sensors are compatible with major TPMS tools, ensuring seamless integration into existing systems. Produced by an OE Tier 1 manufacturer, Walker sensors guarantee the highest quality replacements, meeting, or exceeding industry standards.
Choose Walker TPMS sensors for accurate readings, tire temperature monitoring, hassle-free maintenance, compatibility with major TPMS tools, and unmatched quality. By keeping your truck's tires properly inflated, Walker sensors optimize profitability, improve fuel mileage, reduce tire wear, and enhance overall safety and efficiency.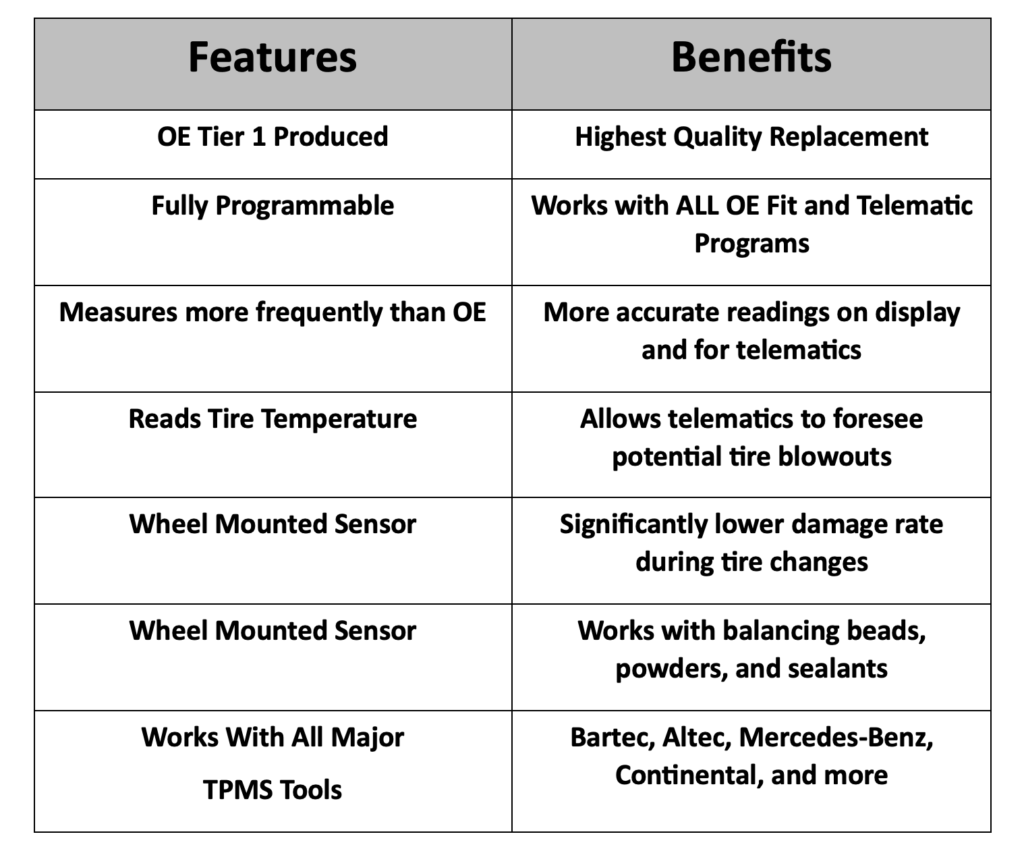 Enhancing Profitability and Efficiency for Trucks:
In the world of trucking, optimizing profitability and efficiency is crucial for success. One often overlooked component that can significantly impact these factors is the Tire Pressure Monitoring System (TPMS). When it comes to TPMS sensors, Walker stands out as a leading choice for numerous reasons.
Accurate Readings for Improved Fuel Mileage and Tire Wear: Walker TPMS sensors offer a distinct advantage by measuring tire pressure more frequently than original equipment (OE) sensors. This increased frequency translates into more accurate readings displayed to drivers and utilized by telematics systems. Proper tire inflation directly improves fuel mileage, ensuring cost savings over the long haul. Additionally, maintaining optimal tire pressure reduces wear and tear, extending the lifespan of truck tires and minimizing replacement costs.

Tire Temperature Monitoring for Enhanced Safety: Walker TPMS sensors go beyond pressure readings by also measuring tire temperature. This valuable feature allows telematics systems to anticipate potential tire blowouts before they occur. By monitoring tire temperature, issues related to overheating or excessive friction can be detected early, preventing accidents and costly downtime.
Wheel Mounted Sensor for Hassle-Free Maintenance: Walker TPMS sensors are conveniently wheel-mounted, offering several advantages during tire changes. Unlike internal sensors, which can be prone to damage or loss during tire replacement, wheel-mounted sensors have a significantly lower damage rate. This translates into reduced maintenance costs and minimizes vehicle downtime. Moreover, the compatibility of Walker sensors with balancing beads, powders, and sealants ensures seamless integration with various tire maintenance solutions.
Compatibility with Major TPMS Tools: Walker TPMS sensors are designed to work with all major TPMS tools, including Bartec, Altec, Mercedes-Benz, Continental, and more. This compatibility ensures that truck owners and technicians can easily integrate Walker sensors into their existing TPMS systems, streamlining the maintenance process and providing peace of mind.
OE Tier 1 Produced for Unmatched Quality: Walker TPMS sensors are produced by an Original Equipment (OE) Tier 1 manufacturer, guaranteeing the highest quality replacements for your truck's TPMS system. This commitment to excellence ensures that Walker sensors meet or exceed industry standards, providing accurate and reliable tire pressure monitoring for enhanced safety and performance.
When it comes to optimizing profitability, improving fuel mileage, reducing tire wear, and enhancing safety, Walker TPMS sensors are the clear choice. With their accurate readings, tire temperature monitoring, wheel-mounted design, compatibility with major TPMS tools, and OE Tier 1 production, Walker sensors offer a comprehensive solution for truck owners seeking top-notch TPMS performance. Trust Walker to keep your truck's tires properly inflated, reducing costs, improving efficiency, and maximizing your overall profitability.
HD Band Sensor Qualifications:
Single-Sensor-SKU for all wheels and wheel-sizes from 17.5" up to 24.5"
Single-Sensor-SKU for all Truck, Trailer and Buses
Wheel compatibility for ETRTO, JATMA and TRA standards
Programmable Sensor for all Aftermarket & OEM requirements
R141 compliant, RED/CE, FCC, 10R05 and JRL homologated
ISO10605, ISO11452-2, ISO11452-5 UTAC 16/07775 certified
ISO 11469/ IPC1755/ RoHS3 and IP67 certified
Simple mount procedure, no tool required
OEM qualification approval by various TRUCK OEMs
Robustness: better resilience against shocks and spin stress. Fabric strap does not damage wheel interior as opposed to metal straps/cables
Versatility: fits on almost every wheel, no matter how the valve looks
Handling: easy mounting, reduced risk of damaging the sensor when the tire is fitted.
Relative pressure measurement range 0 to 205psi (1400 kPa)
Pressure measurement resolution 0.8psi (5.5kPa)
Pressure measurement precision (32°F<T<158°F) ±3.0psi [(0°C<T<70°C) ±20kPa]
Temperature operating range -40°F to 257°F (-40°C to 125°C)
Storage temperature range 32°F to 86°F (0°C to 30°C)
Integrated RF transmitter for ISM band 434MHz
RF homologations (434 MHz) EU, US
Minimum battery lifetime (according to mission profile) 5 to 7 years
Integrated LF detector with high input sensitivity & dual accelerometer